The Monkey Knife Fight Game 6 World Series pitching matchup OVER/UNDER strikeouts contest was set Astros P Justin Verlander 7.5 vs. Nationals P Stephen Strasburg 6.5.  The odds for this game had Houston -173, Washington +166 with a total of 7.5.
TV: 8:07 p.m. ET, FOX
PITCHING MATCHUP: Nationals RH Stephen Strasburg (4-0, 1.93 ERA) vs. Astros RH Justin Verlander (1-3, 4.15)
Strasburg let up two runs over six innings with seven strikeouts in the Game 2 victory, which left him at 5-2 with a 1.34 ERA in his postseason career. He has an astounding 40 strikeouts against two walks across 28 innings in the 2019 playoffs while holding opponents to a .234 average. Astros third baseman Alex Bregman got to Strasburg for a two-run homer in Game 2 before the 31-year-old settled in.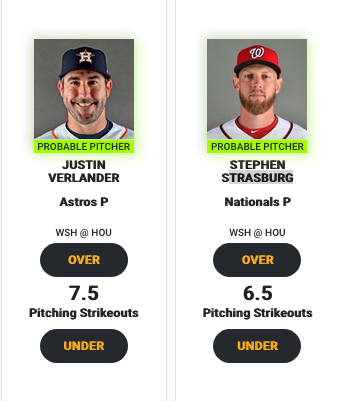 Verlander was locked in a 2-2 tie with Strasburg entering the seventh inning of Game 2, but he served up a tiebreaking home run to Kurt Suzuki and walked the next man before departing and getting charged with four runs overall. He has allowed exactly four runs in three of his last four starts and enters this one at 0-5 with a 5.73 ERA in six career World Series starts. "That would obviously be a moment that ... I would cherish in my career, if that were able to happen," Verlander told reporters when asked about potentially ending his World Series losing streak with a decisive Game 6 triumph.
……Washington SS Trea Turner went 1-for-14 with three strikeouts and zero walks over the last three games.
Fantasy Front
The difference in their profiles comes down to strikeout-minus-walk rate, where Verlander held a seven percent advantage – finishing with the second-best K-BB% in baseball behind Gerrit Cole – while Strasburg finished 10th.
Between his edge in strikeout ability, and the fact that oddsmakers set the Astros as a -175 favorite (implied 63.6%) in Game 6, Verlander rates slightly higher than Strasburg in our MLB Models for Tuesday, even though Strasburg has averaged more DraftKings PPG both over the past year (26.8 to 20.7) and the previous month (26.2 to 18.5).
The pair lead the slate in expected Plus/Minus, but Verlander has the edge in average projection (26.3 to 23.9), floor (3.6 to 3.2) and ceiling (43.3 to 39.8), and is the more valuable selection at a price point just $200 above his counterpart.
The salary gap was $800 before Game 2, but Verlander's cost has come down $400 since that start, while Strasburg has seen a $200 salary increase following the win.
- Dan Shapiro, Gambling911.com