Dodgers look to win their first World Series since 1988

LA is listed at 6/1 odds to win the World Series

Team added another superstar to their lineup with the acquisition of Mookie Betts

Bookmaker offering

a generous welcome

bonus with a maximum of $1000
Now that the cheating scandals of the Astros and Red Sox have been exposed, maybe the Los Angeles Dodgers can move forward and finally win the World Series title that has eluded them since 1988. The Dodgers were victimized by Houston in 2017 and the Sox a year later. They've won the NL West seven years running and are in prime position to sit atop the standings again in 2020. The one thing that could derail them is a shortened season with their superior depth being negated by fewer games.
2020 Los Angeles Dodgers At A Glance
Los Angeles Dodgers World Series Odds +600 
Los Angeles Dodgers NL Pennant Odds +260 
Los Angeles Dodgers NL West Odds -1000
2020 Los Angeles Dodgers Overview 
The Dodgers have the money and talent, and they aren't shy about flaunting it all. Already the deepest team in baseball they added another superstar to their lineup with the acquisition of Mookie Betts surrendering little in the deal. The Dodgers didn't touch the top of their roster or their farm system and return a good portion of the team that won a franchise record 106 games in 2019.
Since their move west for the 1958 season and through the 2016 campaign the Dodgers won more than 100 games twice. They equaled that in the last three seasons with 104 victories in 2017 and 106 last year. In the last seven seasons the Dodgers have won at least 91 games in each while averaging 96 victories and winning the NL West every year.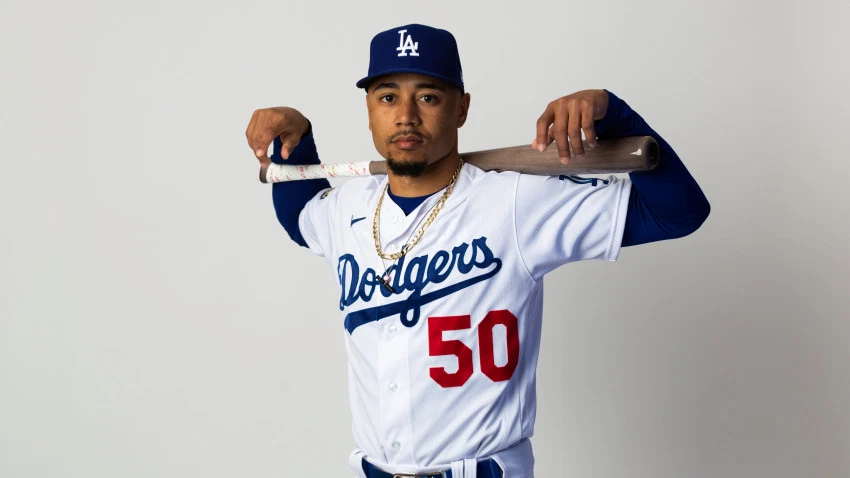 Mookie Betts joins the Dodgers
Through that dominant stretch they haven't won a World Series. Getting there again is expected and winning a title is the goal. Anything less would be considered a failure. If there is a fault it's the pitching staff. Rich Hill and Hyun-Jin Ryu departed as free agents, and Kenta Maeda was traded away. San Diego and Arizona made moves to improve but the Dodgers remain the class of the division.
Pitching
The above mentioned arms are gone and Clayton Kershaw isn't the force he once was. Don't feel sorry for them, though. Walker Buehler is next in line to take over as the staff ace and Julio Urias is ready for a bigger role after pitching limited innings in 2019 while making a recovery from shoulder surgery. You could say Kershaw slumped posting an ERA above 3.00 for the first time since his rookie season. He still won 16 games and is only 32, so don't expect more of a drop. 
Buehler was as advertised with a 14-4 mark and 3.26 ERA over 30 starts. He also fanned 215 batters in 182.1 innings. David Price, acquired along with Betts, is penciled into the middle of the rotation. He started 22 games last season going 7-5 with a 4.28 ERA. He's a serviceable starter and should eat innings as long as he stays healthy. Urias and Alex Wood fill out the bottom of the rotation. Urias threw 79.2 innings in a hybrid role with a 2.49 ERA. 
A rough season from Kenley Jansen has some questioning the bullpen. Jansen had 33 saves and a career-worst 3.71 ERA with eight blown saves. Blake Treinen was signed looking to regain his 2018 form when he saved 38 games with a 0.78 ERA in Oakland. Pedro Baez is a solid setup man with Joe Kelly and Adam Kolarek part of a group that will help close out games.
Hitting
The bats will make up for any mistakes by the pitching staff. Led by MVP Cody Bellinger, the Dodgers topped the NL in runs, had the fourth-most homers in MLB with 279 and hit .257. And that was before the addition of Betts. Bellinger hit .305 with 47 homers and 115 RBIs, Joc Pederson had 36 homers and Max Muncy blasted 35. Betts should fit in nicely with this group. The 2018 AL MVP hit .346 with 32 homers that season. Over the past three years he's averaged .304 with 28 homers, 84 RBIs, 127 runs and 23 stolen bases.
It's time for hot prospect Gavin Lux to take over at second base. Lux destroyed minor league pitching last year before getting promoted. He hit .240 in 75 at-bats and will be a Rookie of the Year candidate. Toss in Justin Turner, Corey Seager and A.J. Pollock and the Dodgers have a formidable lineup. Dave Roberts also has the luxury of moving players around since most all can play multiple positions. 
2020 Los Angeles Dodgers Season Pick
Plenty of depth and talent at every position makes the Dodgers a favorite to win the World Series, if there is a season in 2020. They have quality arms in the rotation and several of their reserves would be full-time starters on most other clubs. And after several seasons of disappointment this group appears poised to get to the top.
Access live betting lines from your mobile device at BookMaker sportsbook! Real-time spreads, totals, props and money line are all available so start betting with BookMaker today. 
- Phil Simon, Gambling911.com