The Raiders come into this game with slim Playoffs hopes

Las Vegas will be missing several key players on defense and offense

Prop bets include Chargers by 1-3 points paying out $800 on a $100 bet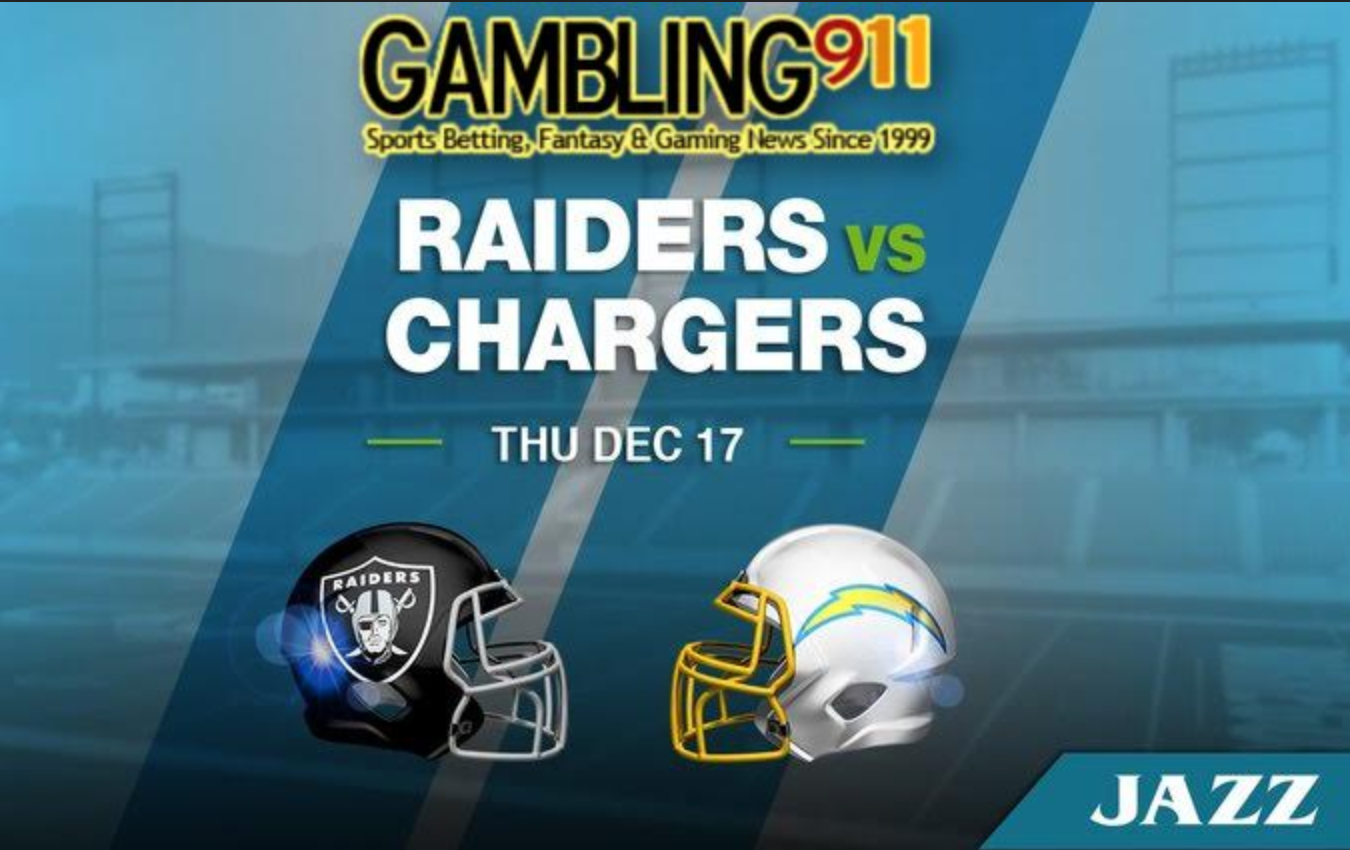 The Las Vegas Raiders opened as a -3 point favorite with the line moving up a half point. 70% or more of those betting the spread were backing Las Vegas.
This is a must win for the Raiders (7-6) who are looking at the ninth seed in the crowded seven-team AFC playoff race.
The Raiders have the 30th-ranked defense that is bruised and battered and could be without four key performers Thursday night.
Likewise, the offense is also taking a hit this week. Henry Ruggs III was placed on the COVID-19 list this week and ruled out for the game. Running back Josh Jacobs, hampered by an ankle injury in recent weeks, also was limited.
Following a stretch in which the Chargers won four straight against the Raiders, Vegas has now won the last three in this series.
Prop Bets
Chargers @ Raiders Thu, Dec 17, 2020 EST
| Rot | Player to Score 1st TD in The Game | Moneyline |
| --- | --- | --- |
| 931 | A Ekeler (LAC)     | +800 |
| 932 | K Allen (LAC)     | +800 |
| 933 | H Henry (LAC)     | +1100 |
| 934 | J Guyton (LAC)     | +1500 |
| 935 | T Johnson (LAC)     | +1500 |
| 936 | K Ballage (LAC)     | +2000 |
| 937 | J Herbert (LAC)     | +2200 |
| 938 | J Jackson (LAC)     | +2500 |
| 939 | D Parham (LAC)     | +3000 |
| 940 | J Reed (LAC)     | +3500 |
| 941 | Chargers DST (LAC)     | +2500 |
| 942 | J Jacobs (LV)     | +500 |
| 943 | D Waller (LV)     | +700 |
| 944 | N Agholor (LV)     | +900 |
| 945 | H Renfrow (LV)     | +1200 |
| 946 | D Booker (LV)     | +1500 |
| 947 | B Edwards (LV)     | +2000 |
| 948 | J Richard (LV)     | +22000 |
| 949 | D Carr (LV)     | +2500 |
| 950 | Z Jones (LV)     | +3000 |
| 951 | J Witten (LV)     | +3500 |
| 952 | Raiders DST (LV)     | +2000 |
| 953 | No Touchdown Scored     | +4500 |
| 954 | The Field     | +1000 |
| Rot | Justin Herbert (LAC) to have 2+ passing TDs and LAC to Win | Moneyline |
| --- | --- | --- |
| 961 | Yes     | +140 |
| Rot | Justin Herbert (LAC) to have 300+ passing yards and LAC to Win | Moneyline |
| --- | --- | --- |
| 962 | Yes     | +275 |
| Rot | Justin Herbert (LAC) to have 250+ passing yards and LAC to Win | Moneyline |
| --- | --- | --- |
| 963 | Yes     | +145 |
| Rot | Austin Ekeler (LAC) to have 1+ touchdowns and LAC to Win | Moneyline |
| --- | --- | --- |
| 964 | Yes     | +185 |
| Rot | Austin Ekeler (LAC) to have 85+ rushing yards and LAC to Win | Moneyline |
| --- | --- | --- |
| 965 | Yes     | +275 |
| Rot | Hunter Henry (LAC) to have 1+ touchdowns and LAC to Win | Moneyline |
| --- | --- | --- |
| 966 | Yes     | +325 |
| Rot | Jalen Guyton (LAC) to have 1+ touchdowns and LAC to Win | Moneyline |
| --- | --- | --- |
| 967 | Yes     | +475 |
| Rot | Kalen Ballage (LAC) to have 1+ touchdowns and LAC to Win | Moneyline |
| --- | --- | --- |
| 968 | Yes     | +450 |
| Rot | Kalen Ballage (LAC) to have 70+ rushing yards and LAC to Win | Moneyline |
| --- | --- | --- |
| 969 | Yes     | +575 |
| Rot | Keenan Allen (LAC) to have 1+ touchdowns and LAC to Win | Moneyline |
| --- | --- | --- |
| 970 | Yes     | +185 |
| Rot | Keenan Allen (LAC) to have 80+ receiving yards and LAC to Win | Moneyline |
| --- | --- | --- |
| 971 | Yes     | +235 |
| Rot | Mike Williams (LAC) to have 1+ touchdowns and LAC to Win | Moneyline |
| --- | --- | --- |
| 972 | Yes     | +250 |
| Rot | Tyron Johnson (LAC) to have 1+ touchdowns and LAC to Win | Moneyline |
| --- | --- | --- |
| 973 | Yes     | +525 |
| Rot | Tyron Johnson (LAC) to have 80+ receiving yards and LAC to Win | Moneyline |
| --- | --- | --- |
| 974 | Yes     | +825 |
| Rot | Derek Carr (LVR) to have 300+ passing yards and LVR to Win | Moneyline |
| --- | --- | --- |
| 981 | Yes     | +175 |
| Rot | Derek Carr (LVR) to have 3+ passing TDs and LVR to Win | Moneyline |
| --- | --- | --- |
| 982 | Yes     | +175 |
| Rot | Darren Waller (LVR) to have 1+ touchdowns and LVR to Win | Moneyline |
| --- | --- | --- |
| 983 | Yes     | Ev |
| Rot | Darren Waller (LVR) to have 100+ receiving yards and LVR to Win | Moneyline |
| --- | --- | --- |
| 984 | Yes     | +225 |
| Rot | Devontae Booker (LVR) to have 1+ touchdowns and LVR to Win | Moneyline |
| --- | --- | --- |
| 985 | Yes     | +185 |
| Rot | Devontae Booker (LVR) to have 70+ rushing yards and LVR to Win | Moneyline |
| --- | --- | --- |
| 986 | Yes     | +375 |
| Rot | Hunter Renfrow (LVR) to have 1+ touchdowns and LVR to Win | Moneyline |
| --- | --- | --- |
| 987 | Yes     | +135 |
| Rot | Hunter Renfrow (LVR) to have 80+ receiving yards and LVR to Win | Moneyline |
| --- | --- | --- |
| 988 | Yes     | +225 |
| Rot | Jalen Richard (LVR) to have 1+ touchdowns and LVR to Win | Moneyline |
| --- | --- | --- |
| 989 | Yes     | +375 |
| Rot | Josh Jacobs (LVR) to have 70+ rushing yards and LVR to Win | Moneyline |
| --- | --- | --- |
| 990 | Yes     | +115 |
| Rot | Nelson Agholor (LVR) to have 1+ touchdowns and LVR to Win | Moneyline |
| --- | --- | --- |
| 991 | Yes     | +135 |
| Rot | Nelson Agholor (LVR) to have 80+ receiving yards and LVR to Win | Moneyline |
| --- | --- | --- |
| 992 | Yes     | +200 |
| Rot | Zay Jones (LVR) to have 1+ touchdowns and LVR to Win | Moneyline |
| --- | --- | --- |
| 993 | Yes     | +350 |
| Rot | Zay Jones (LVR) to have 80+ receiving yards and LVR to Win | Moneyline |
| --- | --- | --- |
| 994 | Yes     | +550 |
| Rot | First To Score | Moneyline |
| --- | --- | --- |
| 1001 | Chargers     | -105 |
| 1002 | Raiders     | -125 |
| Rot | Score in 1st 5½ min | Moneyline |
| --- | --- | --- |
| 1003 | Yes     | -110 |
| 1004 | No     | -120 |
| Rot | First Score of the Game | Moneyline |
| --- | --- | --- |
| 1005 | TD     | -180 |
| 1006 | Any Other Score     | +150 |
| Rot | First Scoring Play | Moneyline |
| --- | --- | --- |
| 1007 | Chargers TD     | +180 |
| 1008 | Chargers FG     | +400 |
| 1009 | Chargers Any Other Score     | +5000 |
| 1010 | Raiders TD     | +150 |
| 1011 | Raiders FG     | +400 |
| 1012 | Raiders Any Other Score     | +5000 |
| Rot | Will there be a Defensive or Special Teams TD | Moneyline |
| --- | --- | --- |
| 1013 | Yes     | +200 |
| 1014 | No     | -250 |
| Rot | Total TDs in the Game | Moneyline |
| --- | --- | --- |
| 1015 | Over  6½  TDs | +110 |
| 1016 | Under  6½  TDs | -140 |
| Rot | Total FGs Scored in the Game | Moneyline |
| --- | --- | --- |
| 1017 | Over  3½  FGs | +120 |
| 1018 | Under  3½  FGs | -150 |
| Rot | Longest TD in the Game | Moneyline |
| --- | --- | --- |
| 1019 | Over  45½  Yards | -115 |
| 1020 | Under  45½  Yards | -115 |
| Rot | Shortest TD in the Game | Moneyline |
| --- | --- | --- |
| 1021 | Over  1½  Yards | -110 |
| 1022 | Under  1½  Yards | -120 |
| Rot | Longest FG Scored in the Game | Moneyline |
| --- | --- | --- |
| 1023 | Over  47½  Yards | -110 |
| 1024 | Under  47½  Yards | -120 |
| Rot | A Team to Score 3 Unanswered Times | Moneyline |
| --- | --- | --- |
| 1025 | Yes     | -250 |
| 1026 | No     | +200 |
| Rot | Team To Score Longest TD | Moneyline |
| --- | --- | --- |
| 1027 | Chargers     | Ev |
| 1028 | Raiders     | -130 |
| Rot | Team To Score Longest FG | Moneyline |
| --- | --- | --- |
| 1029 | Chargers     | -115 |
| 1030 | Raiders     | -115 |
| Rot | Team Scoring 1st Wins Game | Moneyline |
| --- | --- | --- |
| 1031 | Yes     | -155 |
| 1032 | No     | +125 |
| Rot | Team to Call 1st Timeout | Moneyline |
| --- | --- | --- |
| 1033 | Chargers     | -115 |
| 1034 | Raiders     | -115 |
| Rot | Double Result | Moneyline |
| --- | --- | --- |
| 1035 | Chargers/Chargers     | +220 |
| 1036 | Chargers/Tie     | +3500 |
| 1037 | Chargers/Raiders     | +550 |
| 1038 | Tie/Chargers     | +1600 |
| 1039 | Tie/Tie     | +4000 |
| 1040 | Tie/Raiders     | +1400 |
| 1041 | Raiders/Chargers     | +650 |
| 1042 | Raiders/Tie     | +3500 |
| 1043 | Raiders/Raiders     | +105 |
| Rot | Race To 10 Points | Moneyline |
| --- | --- | --- |
| 1044 | Chargers     | Ev |
| 1045 | Raiders     | -160 |
| 1046 | Neither     | +9000 |
| Rot | Will the Game go to Overtime | Moneyline |
| --- | --- | --- |
| 1047 | Yes     | +850 |
| 1048 | No     | -2000 |
| Rot | Highest Scoring Half | Moneyline |
| --- | --- | --- |
| 1049 | 1st Half     | -125 |
| 1050 | 2nd Half     | -120 |
| 1051 | Tie     | +1800 |
| Rot | Highest Scoring Quarter | Moneyline |
| --- | --- | --- |
| 1052 | 1st Quarter     | +450 |
| 1053 | 2nd Quarter     | +170 |
| 1054 | 3rd Quarter     | +425 |
| 1055 | 4th Quarter     | +190 |
| 1056 | Tie     | +750 |
| Rot | Winning Margin | Moneyline |
| --- | --- | --- |
| 1057 | Chargers to win by 1-3 pts     | +800 |
| 1058 | Chargers to win by 4-6 pts     | +1200 |
| 1059 | Chargers to win by 7-10 pts     | +900 |
| 1060 | Chargers to win by 11-13 pts     | +2000 |
| 1061 | Chargers to win by 14-17 pts     | +1500 |
| 1062 | Chargers to win by 18-21 pts     | +2000 |
| 1063 | Chargers to win by 22 or more pts     | +1000 |
| 1064 | Raiders to win by 1-3 pts     | +550 |
| 1065 | Raiders to win by 4-6 pts     | +700 |
| 1066 | Raiders to win by 7-10 pts     | +550 |
| 1067 | Raiders to win by 11-13 pts     | +1300 |
| 1068 | Raiders to win by 14-17 pts     | +800 |
| 1069 | Raiders to win by 18-21 pts     | +1100 |
| 1070 | Raiders to win by 22 or more pts     | +450 |
| Rot | Total Points Scored | Moneyline |
| --- | --- | --- |
| 1071 | 00-14 Points     | +10000 |
| 1072 | 15-21 Points     | +3000 |
| 1073 | 22-28 Points     | +1400 |
| 1074 | 29-35 Points     | +700 |
| 1075 | 36-42 Points     | +450 |
| 1076 | 43-49 Points     | +375 |
| 1077 | 50-56 Points     | +375 |
| 1078 | 57-63 Points     | +450 |
| 1079 | 64-70 Points     | +600 |
| 1080 | 71-77 Points     | +850 |
| 1081 | 78 or More Points     | +700 |
| Rot | 1st Half Total TDs Scored | Moneyline |
| --- | --- | --- |
| 1082 | Over  3½  TDs | +125 |
| 1083 | Under  3½  TDs | -155 |
| Rot | 1st Half Total FGs Scored | Moneyline |
| --- | --- | --- |
| 1084 | Over  1½  FGs | +110 |
| 1085 | Under  1½  FGs | -140 |
| Rot | Score in Last 2 min of the 1st Half | Moneyline |
| --- | --- | --- |
| 1086 | Yes     | -350 |
| 1087 | No     | +250 |
| Rot | 1st Half Winning Margin | Moneyline |
| --- | --- | --- |
| 1088 | Chargers to win by 1-3 pts     | +900 |
| 1089 | Chargers to win by 4-6 pts     | +1000 |
| 1090 | Chargers to win by 7-9 pts     | +900 |
| 1091 | Chargers to win by 10-12 pts     | +1000 |
| 1092 | Chargers to win by 13 or more pts     | +550 |
| 1093 | Raiders to win by 1-3 pts     | +800 |
| 1094 | Raiders to win by 4-6 pts     | +800 |
| 1095 | Raiders to win by 7-9 pts     | +700 |
| 1096 | Raiders to win by 10-12 pts     | +800 |
| 1097 | Raiders to win by 13 or more pts     | +260 |
| 1098 | Tie     | +800 |
| Rot | Will there be a Scoreless Quarter | Moneyline |
| --- | --- | --- |
| 1099 | Yes     | +325 |
| 1100 | No     | -450 |
| Rot | Any Team to Score 40+ Points | Moneyline |
| --- | --- | --- |
| 1101 | Yes     | +235 |
| 1102 | No     | -325 |
| Rot | Team to Score Last | Moneyline |
| --- | --- | --- |
| 1103 | Chargers     | -110 |
| 1104 | Raiders     | -120 |
| Rot | Team to Score Last Wins | Moneyline |
| --- | --- | --- |
| 1105 | Yes     | -175 |
| 1106 | No     | +145 |
| Rot | Total Sacks by Both Teams | Moneyline |
| --- | --- | --- |
| 1109 | Over  3½  Sacks | -115 |
| 1110 | Under  3½  Sacks | -115 |
| Rot | Will there be a Safety | Moneyline |
| --- | --- | --- |
| 1111 | Yes     | +800 |
| 1112 | No     | -1800 |
| Rot | Will the game be Decided by Exactly 3 Points | Moneyline |
| --- | --- | --- |
| 1113 | Yes     | +450 |
| 1114 | No     | -700 |
| Rot | Largest Lead of the Game | Moneyline |
| --- | --- | --- |
| 1115 | Over  16½  Points | -110 |
| 1116 | Under  16½  Points | -120 |
| Rot | First Turnover of The Game Will Be A | Moneyline |
| --- | --- | --- |
| 1117 | Interception     | -140 |
| 1118 | Fumble     | +110 |
- Dan Shapiro, Gambling911.com