WSOP Players Ridiculed Over Covid Concerns as Hellmuth Back to Defend His Title
Published on:
Jun/14/2022
Some good news on the Covid front at this year's World Series of Poker as the record bracelet holder Phil Hellmuth returns to the tables having tested positive last week.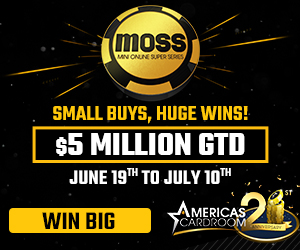 Hellmuth said his symptoms were mild and short-lived.  He is playing in the 2-7 No Limit Lowball Draw Tournament, one for which he is the reigning champion.
The number of those contracting Covid in Clark County where the WSOP is taking place were especially high and quite a few players had bowed out of tournaments temporarily over the past week and some change. 
@WSOP @CaesarsPalace I'm preparing for my two week trip to attend the #WSOP but am very concerned about the huge increase in Covid cases this past month. Can you clarify what is being done re: ventilation systems & safety protocols to mitigate risk? Thank you. pic.twitter.com/d5qfcVpXa9

— Max Uhlenbeck (@HousingTherapy) June 13, 2022
Some are now reporting there is "Covid shaming" occurring at the WSOP, where players ridicule others for their concerns over catching the virus.
Poker players concerned about COVID-19 outbreak at WSOP in Las Vegas "ridiculed," player says. https://t.co/zKBv65cfQK via @gambling_com

— Larry Henry (@NEWSLarryHenry) June 14, 2022
Both Hellmuth and fellow pro Mike Gorodinsky contend they were likely infected playing in last week's Dealer's Choice event.
"Seems like quite a few people who played the dealer's choice have it currently," Gorodinsky tweeted. "I personally won't be back until I have a negative test and significantly reduced symptoms."
Poker player Joe Heinzmann tweeted that some of those at this year's WSOP were not exactly taking the matter seriously, unlike at last year's World Series of Poker.
"This year, not so much," he tweeted. "There are players openly saying they will play sick, that they will not test, even if symptomatic and ridiculing those who are appropriately concerned."
Common sense dictates that, even if you think it's the flu or a cold, avoid infecting others if you are feeling sick.  Nobody wants your germs: Covid, Monkeypox or whatever you might be carrying.
Poker elder Doyle Brunson knew the risks were too great and bowed out of the WSOP last week, at least while Covid is still raging.
- Nagesh Rath, Gambling911.com