Wimbledon Betting Odds – Monday July 2
ShareThis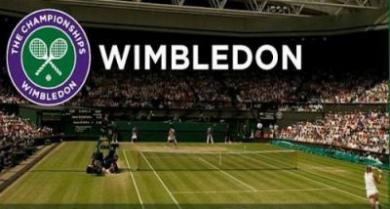 The big favorites were getting the most wagering action for Wimbledon betting on Monday July 2. Novak Djokovic had odds of -2500 and was still the 8th most bet on side of the day while Roger Federer was 9th with -1500 odds. All lines were courtesy of our friends at Sportsbook.ag, which was now offering qualified customers up to $300 in FREE CASH upon joining.
"People were betting these big favorites at Sportsbook," noted Carrie Stroup, Senior Sports Reporter for the Gambling911.com website. "Djokovic you would have to bet $250 to win $10, $25 to win $1. What's the point?"
The key is to bet the underdog in both those matchups and hope for another upset. We've already seen a few of those early on at Wimbledon.
Djokovic, the odds-on favorite to win at Wimbledon (currently at 4/5), takes on Viktor Troicki, who would pay out $180 for every $10 bet with an upset. Federer's opponent, Xavier Malisse, pays $100 for every $10 bet.
The one underdog getting some decent action was Yaroslava Shvedova, who would pay out $35 for every $10 wagered.
Most Bet On of Monday's Wimbledon Matchups:
7 : Kim Clijsters 7-2-12 / 6:00 AM -125
8 : Novak Djokovic 7-2-12 / 6:00 AM -2500
9 : Roger Federer 7-2-12 / 6:00 AM -1500
12 : Maria Sharapova 7-2-12 / 6:00 AM -650
20 : Yaroslava Shvedova 7-2-12 / 6:00 AM +350
- Dan Shapiro, Gambling911.com
Submitted by Dan Shapiro on Sun, 07/01/2012 - 20:50