Three Most Popular Kentucky Derby Horses Saturday Morning
ShareThis
Carrie Stroup here with news that just came in from our friends at Sportsbook on the three most popular Kentucky Derby horses this Saturday AM.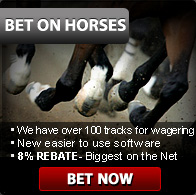 These are the three most bet on horses and it should be noted that Sportsbook has had odds up since October so a lot of the early action on Union Rags is being counted in these numbers.
1) Union Rags 5/1 (17%)
2) Bodemeister 7/1 (15%)
3) Take Charge Indy 10/1 (8%)
So far this AM the Kentucky Derby betting has been brisk.
- Carrie Stroup, Gambling911.com Senior Reporter
Submitted by Carrie Stroup on Sat, 05/05/2012 - 10:22