Heading into Sunday morning, typically Gambling911.com experiences little in the way of any significant Web traffic.  After all, everyone is out partying into the wee hours of Sunday morning.  Th
Submitted by C Costigan on, Jun/28/2009
Here are some fast facts when betting on the 2009 Confederations Cup Final:  USA vs. Brazil.
Submitted by Alistair Prescott on, Jun/27/2009
Spain v. South Africa Confederations Cup betting odds were available at BetUS.com for those living in the U.S. and at Sportingbet.com for those outside the States.  This game was receiving plenty of action (most of which was going towards Spain) in the U.S.
Submitted by Alistair Prescott on, Jun/27/2009
Many Gambling911.com readers in the United States have been emailing us asking what time the USA vs. Brazil Confederations Cup start (the air time).  The answer is:  2 pm EST airing on ESPN.
Submitted by C Costigan on, Jun/27/2009
The oddsmakers gave Team USA practically zero chance to beat Spain in their Wednesday Confederations Cup semi-final.
Submitted by Alistair Prescott on, Jun/24/2009
Spain v. USA odds for the Confederations Cup Semi-Final were available heading into Wednesday night's showdown from Sportingbet.com (non US residents) and SBG Global (US customers welcome).
Submitted by Alistair Prescott on, Jun/23/2009
How did Cristiano Ronaldo know he was going to Real Madrid already last year when just a few short weeks ago he was quoted as saying "Manchester United is my home.  It's where I want to play&
Submitted by Alistair Prescott on, Jun/20/2009
Eight teams will begin play in the Soccer Betting Confederation Cup next weekend as the two week tournament begins in South Africa.  Most of the
Submitted by Guest on, Jun/08/2009
Dietmar Hamann vowed to tackle a £600,000 gambling debt on Monday and insisted he would escape the threat of being taken to court.
Submitted by Guest on, Jun/02/2009
Gambling911.com would be remiss in pointing out that many a football fan lives in North America....and we're not talking about the NFL.
Submitted by Guest on, May/27/2009
All eyes on Rome and all eyes on Cristiano Ronaldo Wednesday as his team goes up against Barcelona in the big Champions League Final.
Ronaldo is the favorite to score first, promising a payout of US$600 for every US$100 bet should he score first or last in the final.  Anytime pays out nearly 2/1 odds.  The hat trick pays out US$4000 for every US100 bet.
Submitted by Alistair Prescott on, May/26/2009
Breaking News
Law enforcement officers have raided a property that the Tuscarora Indian Nation of North Carolina claims as sovereign territory in eastern North Carolina after they received complaints that an illegal casino was being operated there.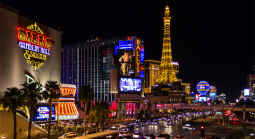 Let's face it, if all casinos were the same, there wouldn't be so many of them.