Handicapping the 2012 Kentucky Derby: Rating the Jockeys
ShareThis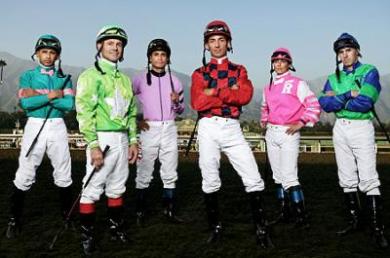 When handicapping the 2012 Kentucky Derby one should certainly look at the jockeys.
For example, Calvin Borel is set to ride Take Charge Indy. Borel's Kentucky Derby record is highly impressive as he's won 3 Derby races since 2007. Considering Take Charge Indy come into this race as a top contender, the 14/1 odds being offered have great value.
Then there is Rafael Bejarano who was originally slated to ride Secret Circle (now out of the Derby) and once pegged to ride the Derby favourite, Bodemeister.
The Peruvian jockey has three Breeders Cup wins under his belt and is looking for another with El Padrino, the horse that starts from the same spot last year's Kentucky Derby winner, Animal Kingdom, bolted from.
Riding co-favorite Union Rags will be Julien Leparoux. The Frenchman won an Eclipse Award for outstanding jockey in 2009 while enjoying three Breeders' Cup wins that same year.
Mike Smith will ride Bodemeister. He has the most Breeders' Cup wins, 15. Smith is the jockey who won the Breeders' Cup with 2010 Horse of the Year, Zenyatta. He also has a couple of Triple Crown victories under his sleeve. You gotta love Bodemeister at 4-1 odds with Smith guiding the way.
All eyes will be on undefeated Gemologist at 6-1 odds. He finished 3rd on the earnings list last year. This year, he sits on top of that list, having ridden some of the best horses out there.
Hansen's value was diminished somewhat as a result of his post position draw. He'll be ridden by Ramon Dominguez, however, the man who went on to win the earnings list and the Eclipse Award for Outstanding Jockey over these past two years. Hansen has been pretty consistent in the odds department, sitting at 10/1. The near-white colt likes Churchill Downs but is not seen as one that could run the Kentucky Derby distance.
Garrett Gomez brings value to Daddy Nose Best, a horse taking off from the decent number 10 post position. He's also Steve Asmussen trained. While Gomez may have 12 Breeders Cup wins, he is yet to score a victory in the Triple Crown.
Kent Desormeaux will ride another top contender, Dullahan, who will start from the post position with the most wins in Derby history. Desormeaux has a few of his own. He's won three Kentucky Derby races.
- Mary Montgomery, Gambling911.com
Submitted by Mary Montgomery on Fri, 05/04/2012 - 20:18