Good news for the world of golf and those online gambling sites that take bets on this sport.
Submitted by Jagajeet Chiba on, Feb/03/2010
The Tiger Woods sex scandal continues to shock, though Saturday things slowed just a bit and BetUS.com quietly pulled its
Submitted by Guest on, Dec/06/2009
Tiger Woods crashed his car into a fire hydrant during the extended Thanksgiving Day weekend and managed to damage a neighbor's tree in the process.  Talk about a "non event".  Then rum
Submitted by Tyrone Black on, Nov/28/2009
Breaking News
The San Antonio Spurs vs. New Orleans Pelicans game featured a line of New Orleans -3.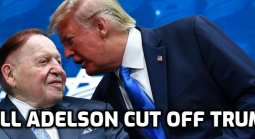 Gambling mogul and Republican megadonor Sheldon Adelson was reportedly chided by US President Donald Trump for not spending more on his reelection campaign.
The New York State Department of financial services (DFS), the Bitlicense regulator, has published a Greenlist comprising 10 cryptocurrencies for custody and eight cryptocurrencies for listing. "Any licensed entity may use coins on the Greenlist for their approved purpose(s)," the regulator explained.