The Boston Bruins were the single most wagered on team Wednesday as they are set to play their first home game since Monday's terrorist attack at the Boston Marathon.  Sportsbook.com called the Bruins a "sentimental favorite".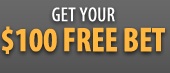 Three individuals were killed in the double explosions.  Another 183 people were wounded.
The Bruins, who will play the Buffalo Sabres, have vowed to "play their hearts out".
"We all know it was a very sad day and emotional around the city for everybody," Bruins captain Zdeno Chara said. "We just have to support each other. We can all play for each other, and during these tough times, maybe help people cheer. With the way we play, we can show the support."
Boston is a -230 favorite coming into Wednesday night's game. 
- Ean Lamb, Gambling911.com