Officials in Bangalore are blaming two small explosions that injured 14 people at an Indian Premiere League (IPL) match on an illegal betting ring.  
V.S. Acharya, home minister for the state of Karnataka, in which Bangalore is located said: "We have received credible information from intelligence sources that the betting racket is behind the blasts. We are carrying out investigations."
But Acharya also expressed uncertainty as to whether the evidence would hold up pointing to an illegal bookmaking racket.
Submitted by Alistair Prescott on, Apr/20/2010
Breaking News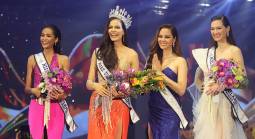 You can bet this year's Miss Universe online anonymously by simply providing a valid email to Jazz Sports.
Zuleika Soler Aragón (born June 29, 1994) is a Salvadoran-American model and beauty pageant titleholder who was crowned Reinado de El Salvador 2019.