WPT BestBet Open 2012 'Unofficial' Final Table: 'Could be a 'Thrilla'
ShareThis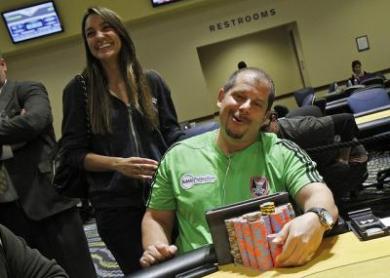 With the elimination of Peter Campo in 11th place ($25,134) at the World Poker Tour (WPT) BestBet Open 2012, the remaining ten players have just redrawn new seats at the ten-handed "unofficial" final table.

Matt Marafioti and Will "The Thrill" Failla are two of the big names still sitting as of late Tuesday night.
Will Failla having an 8th place or better finish would result in him being back on top of the WPT Player Of The Year leader board.
Seat 1: Matt Marafioti - 720,000 (36 BBs)
Seat 2: Amelio Amato - 800,000 (40 BBs)
Seat 3: James Calderaro - 905,000 (45 BBs)
Seat 4: Daniel Buzgon - 555,000 (27 BBs)
Seat 5: Will Failla - 1,500,000 (75 BBs)
Seat 6: Tony Dunst - 710,000 (35 BBs)
Seat 7: Shawn Cunix - 900,000 (45 BBs)
Seat 8: Blake Purvis - 300,000 (15 BBs)
Seat 9: Darren Elias - 2,200,000 (110 BBs)
Seat 10: Byron Kaverman - 820,000 (41 BBs)
- Nagesh Rath, Gambling911.com
Submitted by Nagesh Rath on Tue, 05/01/2012 - 21:22