UConn Poker Addict Balks at Proposed Legalization of Internet Poker in State
ShareThis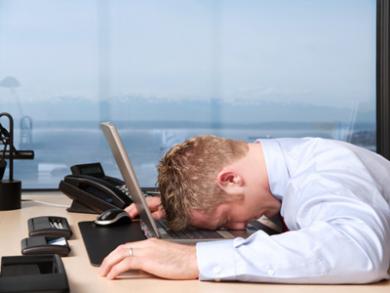 A UConn graduate claims that Internet poker nearly destroyed his life and balks at the idea that Connecticut and other states might consider legalizing the activity.
"The only thing that ran through my mind was the next poker hand,'' Turbessi tells students at a High School. The 2002 Housatonic graduate has been making his case against poker for the past few years, according to the Hartford Courant. He has written a book and speaks to college and high school students about his descent into a dark abyss. "Poker had my attention and I didn't have time to do anything else," Turbessi told the students of a small health class. "It was so easy. I couldn't miss a hand. If I didn't have the computer on, I could miss my lucky break."
Connecticut Governor Dannel P. Malloy is the latest to indicate he is considering state legalization of online poker following a Department of Justice decision not to apply a federal Wire Act to the activity.
Highly addictive and solitary, Internet gambling is suddenly the new money spigot for governments that can't stop spending, suggests Rick Green of the Courant.

Readers were quick to comment on the piece:
I saw this article floating around Twitter and clicked on it. This could be one of the worst articles I have ever read on what appears to be a newspaper website.
If you do not want to play online poker, don't play it. Why do you think you have the right to tell people how to live their lives? Should the people that want to play online poker be at the mercy of offshore operators? Also, every other first world country has already legalized online poker. Why is the land of the free the last one?
Another writes:
Disappointing job by the Courant. Not even close to a real new article. This is a very blatant opinion with limited factual content.
The Courant must do a better job if they wish to be considered a legitimate news source.
Not all readers were in disagreement with Green:
I should mark this on my calendar, January 5, 2012, the day Rick Green and I agreed on something.
The state government is about to get deeper into the gambling business.
I don't see how the state can ultimately profit by promoting gambling addiction. This is not good government policy.
The objection is not moralistic, although a moral element in decision-making is unavoidable; nor is it a partisan issue. This is about what kind of society we will live in and about whether the state government will have a beneficial or a detrimental part in influencing its future.
More Poker News Headlines for the Early Morning Hours of Friday, January 6, 2012:
Three Individuals Accused in Jonathan Duhamel Home Invasion Could be Released on Bail Friday – A former girlfriend of 2012 World Series of Poker champion Jonathan Duhamel and two other individuals await a judge to decide bail conditions, which could come down Friday in Longueuil court. Longueuil is a suburb of Montreal.
Duhamel's ex-girlfriend Bianca Rojas-Latraverse, co-accused Anthony Bourque and John-Stephen Clark-Lemay are charged with forcibly entering the home of Duhamel, beating him up and stealing various items including his WSOP bracelet.
Duhamel's ex-girlfriend Bianca Rojas-Latraverse claimed that she is a professional poker player and wants to go study law in the U.S.A. and live with her estranged father, even though she does not know her father well. Read More Here >>>
Cake Poker Awards First $10,000 
Gold Card Prize of January - Three days into January and Cake Poker has already awarded its first $10,000 prize to player, powerhaus555, in its month long Match & Win promotion. Visit Cake Poker Here >>>
- Jagajeet Chiba, Gambling911.com
Submitted by Jagajeet Chiba on Fri, 01/06/2012 - 00:10