Ban Phil Ivey and Patrik Antonius from Online Poker?
ShareThis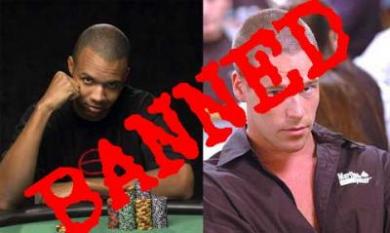 Do Phil Ivey and Patrik Antonius deserve to be banned from playing online poker?
This is the question being asked by Bill Rini of Bill's Poker Blog.
His rationale:  The two poker pros are "sharks" and "net withdrawers".
Rini writes:
"They (Ivey and Antonius) are bad for the site and should clearly be banned if you listen to iPoker who gave Blonde Poker three months notice to find a new network because they had too many winning players."
That's right:  Online poker networks are now punishing their licensees (skins) for having too many winners on board.  Ivey and Antonius certainly qualify. 
He points out that Phil Ivey is up $15,661,019.27 and Patrik Antonius has clocked a cool $13.7 million dollars since 2007.  Few of the so-called online poker "skins" (those that operate rooms on bigger networks such as iPoker and Cake Poker) can sustain these type of losses to players the likes of Ivey and Antonius. 
But is it really fair to discriminate against poker players for winning?
"If you're going to start banning players for being too good or lowering the payouts to the skins to the point that they can't offer better players any retention incentives, they'll go elsewhere. I know that may seem like what some poker network operators want but like all ecosystems there are always unintended consequences."
Ace King, Gambling911.com         
Submitted by Ace King on Mon, 12/28/2009 - 12:39