Online Poker Promotions for May 2012: Win a Seat at the WSOP
ShareThis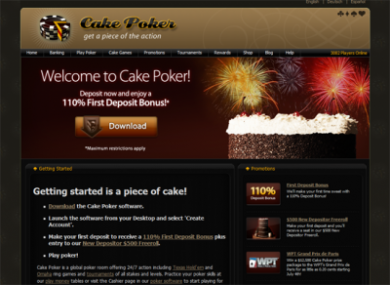 Cake Poker, as always, was offering some top notch online poker promotions for the month of May (2012) including the possibility of winning a seat into the 2012 World Series of Poker (WSOP).

The Diamond Mine is a $40,000 Gold Card Tournament Series that runs from May 15 through May 27. Players compete for cash prizes and gain entry via diamond-suited Gold Cards which they have won at the tables or purchased through The Exchange. Any player who competes in all 13 of the Diamond Mine tournaments, or finishes in the top four of any of the tournaments, will receive entry to the $10,000 Flawless Final Freeroll.
In an effort to maximize players' chances to receive diamond-suited Gold Cards for the Diamond Mine tournament series, Cake Poker has instituted Turbo Gold Cards. This means that between 4pm – 9pm GMT (12 – 5pm ET), Gold Cards are awarded at double their usual rate.
Also in May, Series 2012 qualifiers will continue. As the world's richest and most recognized poker tournament, players from around the world will appreciate the opportunity to win a $10,000 seat to the Main Event.
Additionally, Cake players who try their hand at the new Russian Roulette game in May, are automatically getting a shot at their share of $4,000. Currently, a leaderboard for this new game rewards the top 100 players with up to $100 each week. Earning points on the leaderboard is as simple as playing the game.
Players of all skill levels call Cake Poker home as online poker's most rewarding site. For more information on all of Cake Poker's unique promotions and reward programs Be sure to check out this page here.
About Cake Poker:
Cake Poker was established in 2006 and went on to become the inaugural site of the popular Cake Network, open to a worldwide player base. Cake Poker proudly rewards players of all stakes and levels, not just the VIP fat-cats. Its industry leading loyalty and reward programs – Loyalty Levels, Gold Chips and Gold Cards - give players a piece of over $500,000 in monthly instant cash, free tournament play and prizes. Cake boasts around-the-clock customer service from knowledgeable poker players who understand the pain of a bad beat and a variety of play and real money games. Cake Poker is licensed and regulated by the Government of Curacao. Cake Poker operates under Curacao's leading, regulated and proven gaming licensing & hosting provider, Cyberluck.For more information please visit http://www.cakepoker.eu.
Submitted by Guest on Fri, 05/04/2012 - 10:54