Gambling911.com received an email today from a smitten French man desperately seeking information on a lovely lady from Camasino.com. The gentleman first met his love interest 'Claire' at the Grand Prix event where Camasino was hosting a live poker game via the Snakes Poker Club in Kahnawake.  
At the event, poker players were given an opportunity to play a quick variation of Texas Holdem' and lucky participants won prizes.
However, this one gentleman named 'Adriano' is still seeking his prize.  He submitted the following plea (in French):
Venu passer des vacances à Montréal je suis passé par le stand camasino et 
j'ai remarqué la sublime fille châtain claire   
Pensant la revoir le lendemain pour lui demander ses coordonnées, elle 
n'était plus là.   
Est-ce possible de lui communiquer ce message avec mon @mail afin qu'elle 
puisse me contacter 
Merci d'avance, 
Cordialement.  Adriano
For those who don't speak French, the suitor is speaking about how he met a beautiful dirty blond-haired girl and how he didn't find her when he came back the next day. He is now wondering how he could possibly get in touch with her.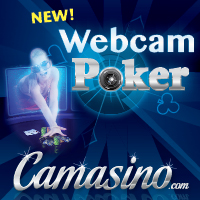 As we love happy endings, Gambling911.com has contacted Camasino to see if they could connect the stunning Claire with lovesick Adriano. Best of luck, Adriano!
Ahead of the curve, Camasino offers real-time live web cam poker.
Sign-up today
and start playing live poker with real people...and who knows, possibly Claire?