Customers are getting paid albeit slowly....very slowly.
Submitted by C Costigan on, Sep/30/2008
According to numerous reports, an online gambling affiliate convention poker tournament has been shut down by Barcelona police.
Police raided the Hotel Princesa in Barcelona Spain this weekend where the Casino Affiliate Programs (CAP) poker tournament was taking place.  (see news here)
All gambling equipment was confiscated.  Gambling911.com was also being told that the organizers were detained. 
Submitted by C Costigan on, Sep/28/2008
The Cleveland Browns head into Week 3 with a 0-2 record after being listed as a favorite to win the AFC North over the Pittsburgh Steelers heading into the 2008 regular NFL season.
Submitted by Carrie Stroup on, Sep/15/2008
The New York Giants won the first game of the 2008 NFL season and the online bookmakers lost. More than 85 percent of the betting action had been on the early Giants line and 72 percent or more on the closing line of -4 ½ at gambling websites like Super Book.
Submitted by C Costigan on, Sep/04/2008
Stories of Bodog refusing to honor contracts with vendors and advertising vehicles continued to surface over recent days with a number of affiliates complaining to Gambling911.com.
Affiliates, while still receiving installment checks from Bodog (BodogLife.com) were complaining that "customer conversions were way down" and that the company was changing its payment terms without notice.
Submitted by C Costigan on, Aug/31/2008
Following news that Bodog (BodogLife.com) had laid off a few hundred people the past week and has had greater difficulties paying customers and vendors than most other wagering establishments due t
Submitted by C Costigan on, Aug/28/2008
What's the latest greatest hottest trend in the world of online gambling? Websites now focused on the Canadian market. Yes Canada! And why not?
Submitted by C Costigan on, Aug/26/2008
The New York Mets along with Time Warner/Road Runner and the Project Safe Childhood Task Force in the Eastern District of New York, are hosting an Internet Safety Awareness Day at Shea Stadium on S
Submitted by Jagajeet Chiba on, Aug/25/2008
For anyone in the poker community who believes that HR 6663 - a bill introduced by Republican Congressman Pete Sessions - is good for the online gambling industry, it's worth noting one of the main
Submitted by C Costigan on, Aug/25/2008
BodogLife.com (formerly Bodog.com), the beleaguered online gambling and poker website, has been having payment processing woes that go beyond what unfortunately has become routine in the industry f
Submitted by Alejandro Botticelli on, Aug/24/2008
With talks all week that Bodog (www.bodoglife.com) has cut its staff and may possibly be leaving the US market, online gambling affi
Submitted by C Costigan on, Aug/22/2008
BodogLife.com, under intense scrutiny by the US Government, has laid off hundreds of its employees this week, leading to speculation that the online gambling firm will be leaving the US market.
Submitted by C Costigan on, Aug/22/2008
According to John Delaney, chief executive of Dublin-based political futures market Intrade.com, betting on the US Presidential election is up 600 perce
Submitted by C Costigan on, Aug/22/2008
BookMaker.com CEO Mickey Richardson announced today that the online sportsbook will accept a record-setting $1,000,000 USD bet on U.S.
Submitted by Payton on, Aug/21/2008
Michael "Uncle Fester" Cash, proprietor of the online gambling portal TheSpread.com just can't seem to cut a break. Just last year on route to a Bodog.com the world's most unluckiest online gambling affiliate arrived in Vancouver Canada and was promptly deported back to his home state of Michigan the next day. Seems he had an arrest warrant from several years back for knocking out someone at a Windsor, Ontario casino who....as fait would have it, was a police officer.
Submitted by Payton on, Aug/18/2008
When it comes to the 2008 Olympics and betting, not all online gambling websites are made the same and some barely offer bets on the games.
Submitted by C Costigan on, Aug/14/2008
HR 6663 or the Unlawful Internet Gambling Enforcement Clarification and Implementation Act of 2008 is purposed to clarify what constitutes what as legal and illegal under the UIGEA.
Submitted by C Costigan on, Aug/11/2008
What are they thinking?
Submitted by C Costigan on, Aug/10/2008
Corruption, gambling syndicates and perhaps some "fixes" were all part of the worries that coincided with a report citing the United Kingdom alone could be responsible for some £25m bet
Submitted by Alistair Prescott on, Aug/09/2008
It appears that a former college basketball player at the University of Toledo might have conceded guilt and is cooperating with investigators after being indicted on federal charges related to poi
Submitted by Guest on, Aug/09/2008
Here we are heading into the second full week of August and things are really starting to heat up at Gambling911.com's esteemed online sportsbooks.
Taking center stage this weekend will be the 2008 Summer Olympics in Beijing where many of these sportsbooks will be offering bets on everything from which country will take home the most gold medals overall to which country will take home the most gold in each individual event.
Submitted by C Costigan on, Aug/08/2008
WASHINGTON, Aug 7 (Reuters) - Two U.S. lawmakers have urged the U.S.
Submitted by Guest on, Aug/07/2008
Three Florida men pleaded guilty in federal court in St. Louis Wednesday to online gambling-related charges, marking a first in attempts to shut down online gambling, prosecutors said.
The three are the first individuals to plead guilty in the case involving BetOnSports, which was once one of the largest online gambling companies in the world, and the first convictions of a "non-gambling entity" like an advertising or marketing company for a gambling-related crime, Assistant U.S. Attorney Steven Holtshouser said.
Submitted by Guest on, Aug/07/2008
The U.S. government recently seized $24 million from bank accounts linked to Bodog, the giant, illegal-under-U.S.-law Internet gaming operation founded by Canadian tycoon Calvin Ayre.
Federal filings make very clear that a serious criminal investigation of the Bodog enterprise is ongoing. At a minimum, word of the seizures is likely to rattle the confidence of U.S.-based online gamblers that they will receive their winnings, not only from Bodog but from the industry's other remaining participants.
Submitted by Guest on, Jul/30/2008
Breaking News
Law enforcement officers have raided a property that the Tuscarora Indian Nation of North Carolina claims as sovereign territory in eastern North Carolina after they received complaints that an illegal casino was being operated there.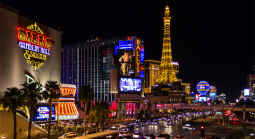 Let's face it, if all casinos were the same, there wouldn't be so many of them.