2012 Kentucky Derby Exacta Betting Odds
ShareThis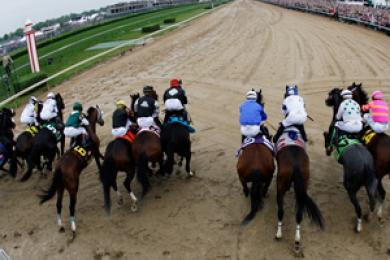 Our friends at BetOnline were offering 2012 Kentucky Derby exacta betting odds on top of wagering for which horse was going to win the world's biggest horse race of the year.
A bet in which the first two places in a race must be predicted in the correct order.
All of the below examples feature the current favorite of Union Rags, even though Bodemeister is considered the favorite by some oddsmakers and Wednesday's post position draw could alternate the two Derby contenders.
El Padrino finishing first with Union Rags 2nd would pay $10,000 on a $100 bet.
Union Rags would pay $350 for a $100 bet when wagered alone while El Padrino by himself would pay out $2500 for every $100 bet.
Union Rags over Alpha 40/1
Union Rags over Creative Cause 18/1
Union Rags over El Padrino 60/1
Union Rags over Hansen 24/1
Alpha over Union Rags 80/1
Creative Cause over Union Rags 32/1
El Padrino over Union Rags 100/1
Hansen over Union Rags 40/1

- Dan Shapiro, Gambling911.com
Submitted by Dan Shapiro on Tue, 05/01/2012 - 15:18