Aarni Otava Saarimaa was encouraged to invest in cryptocurrency Dragon Coin
Thai crime syndicate run by soap star courts young millionaire and fleeces him

The Dragon Coin Scam
A young Finnish millionaire was fleeced out of $35 million worth of bitcoin as part of a gambling scam.
The story was first reported by the Bangkok Post late Monday.
Aarni Otava Saarimaa, 22, was the victim.  The alleged bitcoin gambling scam involves Dragon Coin.
Just the other day, Gambling911.com reported on how gambling has overtaken CryptoKitties as the single most popular application on the blockchain network now.
Dragon Coin and another ICO raised nearly $1 billion, while a total of 21 other projects have garnered another $300 million through initial coin offerings, according to Autonomous Research.
As for Saarimaa, here is how it apparently went down courtesy of NextWeb.com:
The gang allegedly had convinced Saarimaa and an associate that Dragon Coin was to be accepted by casinos as a legitimate means of payment. The pair was even taken to a casino in Macao to convince them to 'invest.'
That trip was apparently enough for them to part with 5,564.4 Bitcoin – over $35 million. Suspicions were only raised when Saarimaa saw none of the promised returns; all of the Bitcoin had been immediately sold and distributed amongst the gang.
According to the Crime Suppression Division's (CSD) investigation in Thailand, he Finnish businessman has lost almost 800 million baht worth of bitcoin to the gang.  CSD has been investigating the group for nearly six months now.
Young Soap Star Taken Down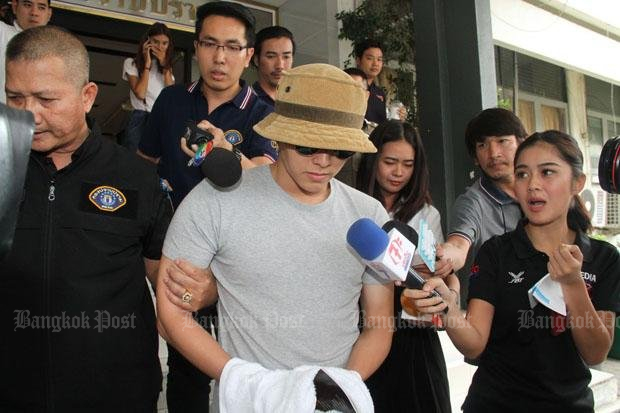 Police took handcuffed 27-year-old soap actor Jiratpisit 'Boom' Jaravijit (centre above) from the Crime Suppression Division to the Criminal Court in Bangkok on Friday, the day after his birthday.
"This case is complicated. We had to carefully examine documents and trace the money trail. We collaborated with Amlo and it took us almost seven months to get approval for the arrest warrants for the first group," Pol Col Chakrit said.
How it Worked
From the Bangkok Post:
The gang lured the victims into buying shares in Expay Group, NX Chain Inc and DNA 2002 Plc and trading another type of digital currency called Dragon Coins. They also talked the victims into believing the Dragon Coins would be used at a casino in Macao, which they took them to visit to add weight to their claim. After receiving the bitcoin from the victims, the gang sold the cryptocurrency and transferred the money into various bank accounts. It was not until Aug 8 that the scam came to public attention.
One of the soap stars siblings was also charged with collusion to launder money.
"For the money laundering charge, we are verifying the amount of money with commercial banks only in the accounts of the siblings and their family and relatives," Pol Col Chakrit said.
"The money needs to be frozen and brought back to the victims.  When it is fraud, the complainants and the accused can talk and have arbitration. However, money laundering is a crime that cannot be bargained away."
- Jagajeet Chiba, Gambling911.com