It is too early to tell whether Super Bowl 44 betting will indeed place this game in the record books, but early traffic at Gambling911.com, the gambling news and odds authority, suggests it could be.
"Super Bowl 44 betting is likely to result in the most traffic to date in Gambling911.com's near 10 year history," predicts the site's Senior Editor, Payton O'Brien. 
That record would likely be short lived as the Kentucky Derby betting traffic tends to match up with or exceed that of the previous Super Bowl three months later. This year's Derby day also features a much anticipated fight between Floyd Mayweather Jr. and Shane Mosley (odds were available at SBG Global here)
Some $100 million will be wagered in Las Vegas on the Super Bowl and another several billion will be bet online. 
Las Vegas Hilton SuperBook director Jay Kornegay estimated that 75 percent of public prop bettors would exclusively wager "yes" on yes/no props and "over" on over/under props.  His rationale makes perfect sense to us.
"No one wants to come all the way to Las Vegas to root for something not to happen," Kornegay told the Las Vegas Sun this week.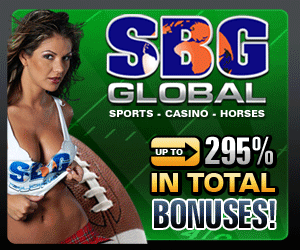 Whether the same holds true for Super Bowl 44 betting over the Internet remains to be seen.
In Vegas, Super Bowl weekend represents one of the busiest (if not THE busiest) travel periods in any given year with the exception of New Year's Eve.
The record for the Super Bowl is about $96 million, and this year is expected to bring in about $90 million in wagers as the economy still lags.
For online bookmakers the problem may be getting money in as Visa announced it will be looking to block Web gambling transactions.  This is nothing new to the more established online sportsbooks, who have been dealing with the credit card processing dilemma for nearly a decade now.  Some have become quite artful and will have little trouble accepting Visa and Mastercard transactions.  Others might be screwed. 
In any event, the Visa action is likely to cut down on the amount being bet online for this year's Super Bowl.
Christopher Costigan, Gambling911.com Publisher