New Jersey Governor Chris Christie has Online Gambling 'Change of Heart'
ShareThis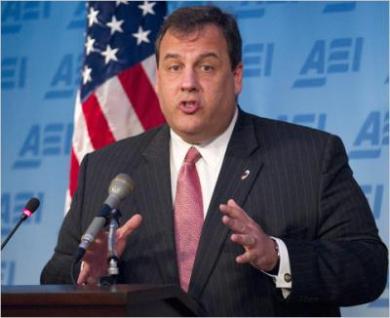 The Philadelphia Inquirer on Tuesday published a report suggesting that "politics" may be behind New Jersey Governor Chris Christie's "change of heart" as it pertains to legalized online gambling in the Garden State.
A few technicalities seemed to be all that stood in the way of passing a new law that Christie said he supported earlier in the year.
Christie was quoted back in January: "I think we should be an epicenter for that business, but I want to do it right -- I do not want to rush and get legislation that either doesn't pass state constitutional muster, or creates other problems for us."
Christie vetoed an online gambling bill in March of last year that would have made New Jersey the first state to allow Internet betting. At the time he cited legal concerns over Web gambling operations popping up throughout the state without proper regulatory tools in place.
The Inquirer article suggests that Christie's sudden shift may have something to do with offending Vegas casino billionaire and GOP donor Sheldon Adelson, someone who is staunchly against legalized Web gambling in the US.
"Christie is putting the future of A.C. in jeopardy because of his overriding concern for support from [Sheldon] Adelson, a right-wing money machine of Newt Gingrich and right-wing causes; Caesars, a huge contributor based in Nevada; and Woody Johnson, Jets owner and NFL opponent of sports gaming," Sen. Raymond Lesniak (D., Union) wrote last week in an e-mail, not long after a meeting with Christie's staff.
Christie's press secretary, Michael Drewniak, on Monday told the Inquirer: "Democrats criticize us for everything, so what else is new? I don't feel the need to weigh in at this moment." Both houses in Trenton are controlled by Democrats.
"It is my understanding that Gov. Christie supports intrastate Internet gaming," said Assemblyman Chris A. Brown (R., Atlantic), whose district includes Atlantic City. He also serves on the Assembly Consumer Affairs, Tourism and Arts Committee. "Namely, he wants to make sure we get it right.
"Obviously, this is a great opportunity for New Jersey to create new jobs and new economic activity."
Lesniack is not convinced Christie, who is on the short list to be the Vice Presidential nominee for Republican Mitt Romney, will go along for the ride prior to the November elections. The Northern New Jersey Democrat left the meeting, along with bill co-sponsor, State Sen. James Whelan (D., Atlantic), feeling let down.
"We were told ... that the Atlantic City casinos have not made the case that Internet gaming is good for them," Lesniak said of the 10-minute meeting with Christie's aides. "Sen. Whelan and I were stunned. We were led to believe that there were only technical issues to clear up."
Whelan, who backed Lesniak's account of the meeting, added, "Again, from the front office, I got mixed signals."
When it comes to legalizing sports betting in the state, that's a whole other animal entirely. The NFL is staunchly against state legalization.
The Inquirer speculated that Christie's perceived "close friendship" with New York Jets owner Woody Johnson could also be playing a role in the Governor's about-face.
From The Philadelphia Inquirer:
Christie is known to be close friends with Robert Wood "Woody" Johnson, owner of the New York Jets. The governor was seen on TV sitting next to Johnson in the owner's box during a Jets game against the New York Giants last year at the Meadowlands.
Johnson wrote a $2,500 check to Romney's primary campaign, according to data from the Federal Election Commission and the Center for Responsive Politics in Washington, which tracks campaign contributions.
Johnson did not respond to an e-mail seeking comment on his relationship with Christie or whether he was urging the governor to back off on permitting sports betting.
Lesniak had anticipated online gambling to be legalized in New Jersey by the summer.
- Chris Costigan, Gambling911.com Publisher
Submitted by C Costigan on Tue, 05/08/2012 - 11:43