Chris Christie Finally Backs Sports Betting in New Jersey: Voters Get Their Ballots
ShareThis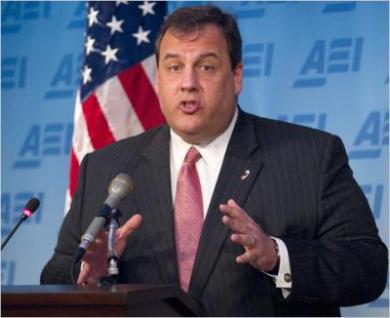 After initially supporting sports betting in the state then seemingly backing down, New Jersey Governor Chris Christie came forward Wednesday to offer his full support for the referendum appearing on next week's ballot.
As Gambling911.com reported earlier in the day, a number of state residents have been notifying us of the referendum appearing on the ballot that would allow NJ voters to get sports betting legalized in the state.
According to recent polls, voters overwhelmingly support legalized sports wagering in the state.
Gov. Chris Christie said he is ready to team up with legislative champion state Sen. Ray Lesniak, (D-20), of Elizabeth, if it does.
If the voters approve the measure, Christie said he'll be "sitting down with Sen. Lesniak and others (to talk) about how we're going to implement the will of the people."
"I'm voting 'yes' on it," the governor said. "I think it's important for New Jersey to have this option."
From Timothy J. Carroll of PolitickerNJ.com:
Recalling an anecdote from a New York Giants game, Christie said, "Gaming is surrounding us everywhere." Walking out of the game, a man expressed to the governor his joy over the team winning, but his despair that they didn't cover for his parlay.
Joking in his incredulousness, Christie said honestly, "I don't think any of us is of the illusion" that gambling isn't happening in the state.
"Let's get that economy up from underground," he said. "Let's have the people who benefit from it be the people of the state of New Jersey," not individuals involved in organized crime.
"With this referendum we have an opportunity," he said, that gives the state more solid footing to challenge the federal ban on sports wagering outside of a few select places. "If it fails, obviously I won't have any interest in pursuing it."
The Interactive Media Entertainment & Gaming Associationhas also been working with Senator Lesniak to get such an initiative passed and believes that ultimately New Jersey residents will be able to place sports bets online as part of a regulated environment overseen by Atlantic City.
Donald Trump's organization also revealed last month that it would be jumping into the Internet gambling fray should legislation pass in the US, either at the federal or state level.
- Chris Costigan, Gambling911.com Publisher
Submitted by C Costigan on Wed, 11/02/2011 - 18:06