Super Bowl 46 MVP Odds: Most in Double Digits
ShareThis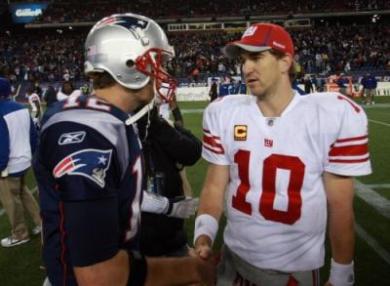 The Super Bowl 46 MVP odds have undergone some dramatic changes in recent days. (find hundreds of Super Bowl prop bets here)
The biggest change comes with Rob Gronkowski going from 4/1 odds to 9/1 odds to win the Super Bowl 46 Most Valued Player.
The Patriots tight end has been recovering from a high ankle sprain he suffered in the AFC Championship Game. It is a game time decision whether he will play but it is expected. The problem, however, is that Gronkowski is not likely to play 100 percent healthy and that has oddsmakers doubtful he could end up winning the MVP award.
Needless-to-say, the two starting quarterbacks are favored to be named Super Bowl 46 MVP. Tom Brady was listed at -120, requiring a $12 bet to win $10 (the $12 is refunded should he win). Eli Manning will pay $15 for every $10 bet.
ODDS TO WIN THE SUPER BOWL XLVI MVP AWARD
| | | | |
| --- | --- | --- | --- |
| AARON HERNANDEZ | +1500 | - | - |

| | | | |
| --- | --- | --- | --- |
| BENJARVUS GREEN ELLIS | +2500 | - | - |

| | | | |
| --- | --- | --- | --- |
| MARIO MANNINGHAM | +1600 | - | - |

| | | | |
| --- | --- | --- | --- |
| JASON PIERRE-PAUL | +2500 | - | - |

| | | | |
| --- | --- | --- | --- |
| STEPHEN GOSTKOWSKI | +5000 | - | - |

| | | | |
| --- | --- | --- | --- |
| THE FIELD (ANY OTHER PLAYER) | +1500 | - | - |
- Don Shapiro, Gambling911.com
Submitted by Don Shapiro on Sun, 02/05/2012 - 00:18