The Pittsburgh Steelers AFC North 2013 odds were set at +220 at Sportsbook.com. These were the best odds Gambling911.com could find on the Net with most online sportsbooks offering a price under 2/1.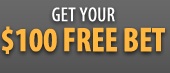 These are all your AFC North 2013 odds with a horse race between the Pittsburgh Steelers (technically the favorite), the Cincinnati Bengals and the Ravens.
Baltimore Ravens
+200
Cincinnati Bengals
+220
Cleveland Browns
+650
Pittsburgh Steelers
+220

Unfortunately for Pittsburgh, they lost a few of their veterans during the offseason. Seven starters won't be returning.
The selection of Oregon State receiver Markus Wheaton during this year's NFL Draft should help a bit. And first round pick Jarvis Harrison from Georgia will boost this team as well.
The Steelers defense finished number one last season despite being banged up.
Looking at the schedule, Pittsburgh should have no trouble winning at least 9 games. The OVER 9.5 would pay out $130 for every $100 bet.
Why Join Sportsbook
Free $100 bet upon joining. Biggest North American facing online sportsbook in terms of customer volume, Tons of betting options on most sports, easy intervface, high credit card acceptance rate, some of the best odds available, massive contests and cash prize pools. Learn More About BetOnline Here

Odds to Win the 2014 Super Bowl at Sportsbook.com

New England Patriots 7/1
San Francisco 8/1
Denver Broncos 8/1
Baltimore Ravens 7/1
Seattle Seahawks 8/1
Pittsburgh Steelers 9/1
Green Bay Packers 10/1
Atlanta Falcons 16/1
Houston Texans 16/1
New Orleans Saints 18/1
New York Giants 20/1
Dallas Cowboys 25/1
Washington Redskins 28/1
- Mary Montgomery, Gambling911.com