Jay Cutler to Undergo Surgery: Expected to Return End of Season (Latest Odds)
ShareThis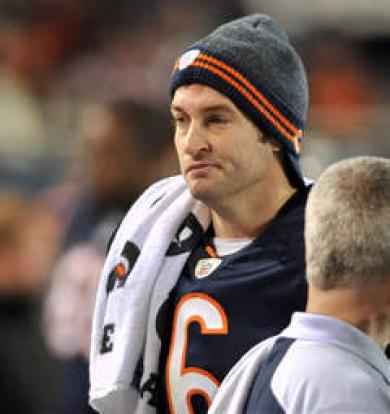 Jay Cutler will reportedly undergo surgery on his fractured right thumb in Vail, Colorado Wednesday.
The Chicago Bears coach Lovie Smith said Monday that he believes Cutler could return to the field near the tail end of the regular season.
"The plan is to get him back at the latter part of the regular season," Smith told reporters. "This is what I wanted to know, 'Was it a season-ending injury?' No. From what I've been told right now, we can expect him back at the end of the regular season. For me, that's enough to go on."
Chicago could still remain competitive in the NFC North with Green Bay and Detroit. Kansas City and Seattle both come to Chicago during the remaining stretch. These are games that can be won without Cutler, at least in theory.
The Bears odds to win the 2012 Super Bowl were at 20/1.
- Dan Shapiro, Gambling911.com
Submitted by Dan Shapiro on Tue, 11/22/2011 - 22:03