College Football betting lines for Week 12 of the 2012 regular season were now available at BetDSI.com here, which offers up to $2500 in FREE CASH and LIVE WAGERING up to the final play on most nationally televised games.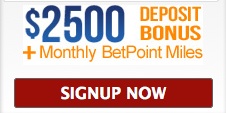 Number one ranked Kansas State was getting the most action of any other team in College Football this week early on. 90 percent of those betting the spread, in fact, were backing 10-0 Kansas State.
Stanford, despite being 8-2 and ranked number 13, were coming in as a huge +21 underdog at number 2 ranked Oregon. The Ducks were ranked number 1 by the Associated Press this week.
All Week 12 College Football lines appear below and can be bet at BetDSI.com here.
Thursday Game – North Carolina -3.5 Virginia
8 pm ET: Kansas State -11 Baylor
8 pm ET: Stanford +21 Oregon
3:30 pm ET: Ohio State +2.5 Wisconsin
3:05 pm ET: USC -4 UCLA
3:30 pm ET: Wake Forest +24 Notre Dame
3:30 pm ET: Ole Miss +19 LSU
3:30 pm ET: North Carolina State +17.5 Clemson
7 pm ET: Oklahoma -10.5 West Virginia
Noon ET: Iowa (Check Back Later) Michigan
- Don Shapiro, Gambling911.com