Brazil is the odds-on favorite to win the 2014 Soccer World Cup, however, the price varied from book to book.  Gambling911.com has scoured the Internet to find the very best prices available for Brazil to win this year's FIFA World Cup.

Of the European bookmakers that do not accept North American customers, Unibet, Bet365 and BetVictor were offering the Brazil to win the World Cup outright at 3-1 for a payout potential of US$30 on every US$10 bet. It is Ladbrokes, however, offering the best price of the Euro books: 4/1.
Of the Gambling911.com endorsed online sportsbooks that welcome North American customers, Sportsbook.ag offered the best payout odds on Brazil at 3-1.
We've seen books offering as low as +150 so you'll definitely get more bang for your buck betting Brazil at Sportsbook.ag.
Argentina, Germany and Spain are each within the 5-1 odds range.  Germany, however, has been dealt a serious blow with Marco Reus out due to injury.
Brazil Pros – Home field advantage obviously, Excelled at 2013 Confederations Cup (note they also hosted this event), team is full of top of the line talent, one of the best forward and mid lines inf FIFA, Neymar
Brazil Cons – Lack of depth in centre forward and midfield positions, there are some very competitive teams that are more than capable of beating Brazil.
Scroll Down For All Odds...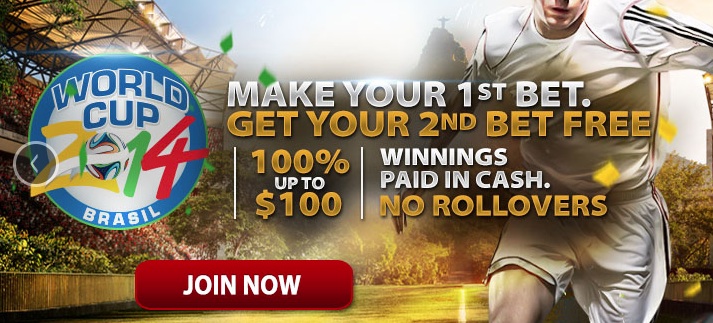 | | | | | |
| --- | --- | --- | --- | --- |
|   |   | Argentina | 4/1 |   |
|   |   | Germany | 5/1 |   |
|   |   | Spain | 13/2 |   |
|   |   | Belgium | 16/1 |   |
|   |   | Portugal | 20/1 |   |
|   |   | Holland | 25/1 |   |
|   |   | Italy | 25/1 |   |
|   |   | France | 25/1 |   |
|   |   | England | 28/1 |   |
|   |   | Uruguay | 28/1 |   |
|   |   | Colombia | 28/1 |   |
|   |   | Chile | 40/1 |   |
|   |   | Russia | 100/1 |   |
|   |   | Switzerland | 100/1 |   |
|   |   | Mexico | 150/1 |   |
|   |   | Croatia | 150/1 |   |
|   |   | Ecuador | 150/1 |   |
|   |   | Ivory Coast | 150/1 |   |
|   |   | Japan | 150/1 |   |
|   |   | Bosnia | 150/1 |   |
|   |   | Ghana | 200/1 |   |
|   |   | Nigeria | 200/1 |   |
|   |   | USA | 250/1 |   |
|   |   | Greece | 300/1 |   |
|   |   | Korea Republic (South) | 500/1 |   |
|   |   | Cameroon | 1000/1 |   |
|   |   | Australia | 1500/1 |   |
|   |   | Algeria | 2000/1 |   |
|   |   | Iran | 3000/1 |   |
|   |   | Honduras | 4000/1 |   |
|   |   | Costa Rica | 4000/1 |   |
- Alistair Prescott, Gambling911.com