Alan Shearer, Alan Hansen: Capello Will Go
ShareThis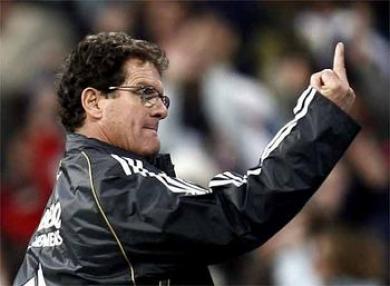 Following England's dismal performance at the 2010 World Cup, the cries for manager Fabio Capello to resign are becoming more vocal
Two former footballers, Alan Shearer and Alan Hansen, are suggesting England manager Fabio Capello will resign after they were manhandled by the Germans.
"I think he will go," said Hansen. "I think because they were that bad, not just in this game but in the whole tournament."
Hansen was also scathing in his assessment of the performance from Capello's side.
Speaking on BBC1, Hansen said: "They were abysmal. If you look at the back four, the midfield, the attackers, the system and the manager. Every aspect was rock bottom. The basics, the fundamentals weren't there.
"(Wayne) Rooney frankly over the four games has not performed. We talked about the Germans being average but they made England look a very poor side.
"On the whole (David) James was England's best player, for the keeper to be the best player in a performance like that is unusual. It was shambolic."
Shearer was equally as vocal: "They were hopeless from start to finish," he said.
"The big players, whether they don't like the system or the manager, they have not performed.
"It summed it up in the last 15 minutes, when we needed goals, when he brings a guy like (Emile) Heskey who hasn't scored goals all his life when we are chasing the game. I am at a loss to see that."
Expect the British bookmakers to offer odds on Capello's departure, perhaps as soon as this evening.
Anyone who wagers $50 or more on any of Sportsbetting.com's World Cup prop betting options will receive a free $10.00 bet.
Alistair Prescott, Gambling911.com 
Submitted by Alistair Prescott on Sun, 06/27/2010 - 13:05