Another year has come when Las Vegas will not be offering odds on the Oscars. 2013 may be the last time such wagering is prohibited. Note that online bookmakers the likes of Sportsbook.com do offer a wide slate of Oscar wagering.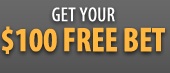 For years, regulators prohibited betting on anything other than sporting events.
That all changed two years ago when officials changed the rules to allow Vegas sportsbooks to accept bets on non-sporting events under certain conditions.
To date, none of the books have really caught on despite the Oscars being the single most wagered on nonsporting event of the year. It is, by Gambling911.com's account, the third most wagered on single day event of the year after the Super Bowl and Kentucky Derby.
The concern over taking Oscar bets appears to revolve around the concept that this is a "predetermined" event. Ballots have already been cast. That shouldn't stop the Vegas books from taking wagers prior to the ballot submission deadline, however.
It's all good if you happen to have a computer. There are a few good categories worth wagering on with competitive odds: Best Supporting Actor, Best Actress and even Best Picture despite "Argo" now having a pretty solid lead with online oddsmakers.
- Carrie Stroup, Gambling911.com Senior Reporter