She referred to his foot fetish as "weird" and a "little scary" in a radio interview this week but this month's Playboy model and fashionista, Aubrey O'Day, insisted to Gambling911.com Thursday her ex-beau, poker star David Williams, really is "sweet".
"David Williams is a nice guy," O'Day told Gambling911.com Cuban transgender reporter, Sparky Collins, during her appearance at New York Fashion Week's Custo Barcelona. 
Ms. O'Day was literally swarmed with photographers, one of which was the internationally renowned Collins.
"Sparky, over here!" a female voice shouted out.  "Hey Sparky!  Hey Sparky!"
He turned to see both Paris and Nicky Hilton waving, so Sparky could spend little time with Ms. O'Day, who seemed anxious to talk more about Williams freakish behaviour.
She said plenty on that radio show, making it clear that the whole "foot fetish" thing really terrified her and was the sole (no pun intended) reason for their breakup. 
After O'Day, the most attention seemed directed at Sparky Collins, who was dressed in Zac Posen. 
Then there was Olympic swimmer, Ryan Lochte, sitting next to Aubrey during the show.  He was placed in charge of holding her precious little pooch whenever fans wanted to have photos taken with the former Dannity Kane singer.  Lochte is on a relay team with Phelps and at this venue was playing dog holder.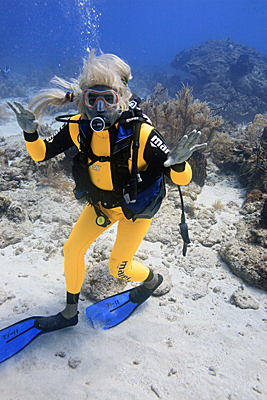 It could have been worse...at least Lochte wasn't photographed holding a bong.
The above photo was shot by Sparky Collins, who is pictured left scuba diving.  
Oh, and may we recommend playing with a normal poker player - Doyle Brunson. Kevin Connolly, Golden Globe nominee for his role as Eric "E" Murphy on the HBO hit series "Entourage", and star of the big screen blockbuster romantic comedy, "He's Just Not That into You," will be pulling up a special seat with the legendary Doyle Brunson in his online poker room next week - Doylesroom.com.  Winners get to lick Doyle's cowboy boots. 
That's a joke...a very bad joke. 
Jenny Woo, Gambling911.com Senior International Correspondent