March Madness 2013 betting odds were available at Sportsbook.com with wagering available on which school will go on to win the NCAA Championship. Be sure to claim your $100 FREE BET at Sportsbook.com here.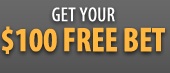 As of Selection Sunday, the outright favourites to win included Indiana at 5/1 odds, Florida at 7/1 odds, Duke at 5/1 odds, Georgetown at 12/1 odds, Gonzaga 10/1 odds, Kansas 8/1 odds, Louisville 6/1 odds, Michigan 10/1 odds, Michigan State 12/1 odds, Ohio State 15/1 odds and Syracuse at 15/1 odds.
March Madness is one of the most wagered on sporting events of the year in the US with an estimated $2.5 billion expected to be bet before all is said and done.
Alabama
Arizona
Arkansas
Baylor
Belmont
Butler
California
Cincinnati
Clemson
Colorado
Colorado St
Creighton
Davidson
Dayton
DePaul
Duke
Field (Any Other Team)
Florida
Florida St
Georgetown
Georgia
Georgia Tech
Gonzaga
Harvard
Illinois
Indiana
Iowa
Iowa St
Kansas
Kansas St
Kentucky
LSU
LaSalle
Long Beach St
Louisville
Marquette
Marshall
Maryland
Memphis
Miami FL
Michigan
Michigan St
Minnesota
Mississippi St
Missouri
Nevada
New Mexico
North Carolina
North Carolina St
Northwestern
Notre Dame
Ohio
Ohio St
Oklahoma
Oklahoma St
Ole Miss
Oregon
Oregon St
Pittsburgh
Providence
Purdue
Richmond
Rutgers
San Diego St
Seton Hall
South Carolina
South Florida
Southern Miss
St Bonaventure
St Joes
St Johns
St Louis
St Marys
Stanford
Syracuse
Temple
Tennessee
Texas
Texas A&M
U Mass
UCLA
UNLV
USC
Utah St
VCU
Vanderbilt
Villanova
Virginia
Virginia Tech
Washington
West Virginia
Wichita St
Wisconsin
Xavier
- Carrie Stroup, Gambling911.com Senior Reporter