Josh Hamilton to Hit the Most Regular Season Home Runs Odds (Video)
ShareThis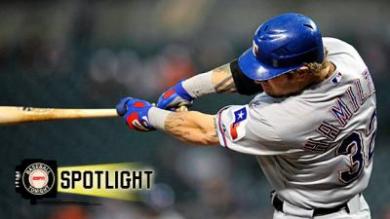 After his 4th homer, Texas Rangers outfielder Josh Hamilton went from 12/1 to 6/1 to 3/1 to hit the most regular season home runs at Sportsbook in 2012. Oh, and did we mention all four of these home runs occurred during a single game Tuesday night (May 8).

"He moved to 6/1 at Sportsbook after his 2nd homer last night, then moved again to 3/1 after his 4th home run," Sportsbook's Mike Perry advised us.
"We got over $4000 in action at 12/1 yesterday and over $6000 in action at 6/1."
Hamilton became only the 16th player in Major League Baseball to accomplish such a feat.
Hamilton is the first to accomplish the feat since Carlos Delgado did so on Sept. 25, 2003, for Toronto against Tampa Bay.
Current Top MLB Betting Props Being Offered By Sportsbook:
Props
"I was saying after I hit two that I had never hit three in a game before. What a blessing that was," Hamilton said. "And then to hit four, it was just an awesome feeling to see how excited my teammates got.
"It reminds you of when you're in Little League and a little kid, and just the excitement and why we play the game. Things like that. You never know what can happen. It was just an absolute blessing."
"History was witnessed tonight," Rangers manager Ron Washington said.
Even Delgado was impressed, congratulating Hamilton on Twitter.
"#Rangers Mr. Josh Hamilton very nice game. Welcome to the club!!!!!!! @shawngreen15," Delgado wrote, referencing Shawn Green's four-home-run game against the Milwaukee Brewers on May 23, 2002.
Green also took to Twitter to praise Hamilton.
"Thanks for all of the nice messages tonight..." Green wrote, "and thanks Josh Hamilton for getting people to remember me!"
Hamilton himself was a little more reserved in acknowledging his accomplishment.
"It's like anything else -- you do something good or something incredible happens, it takes a little bit for it to sink in," Hamilton said. "I think when I get away from everybody and I have some time to myself, I think it might then."
- Dan Shapiro, Gambling911.com
Submitted by Dan Shapiro on Wed, 05/09/2012 - 10:22