Offensive production props among the most popular thanks to typically large number of points scored in Super Bowl

Todd Gurley as favorite would pay significantly USD$65 for every USD$10 bet

Sony Michel was listed with second shortest odds and pays USD$70 for every USD$10 bet

Both teams have talented playmaking receivers with breakaway ability that can easily result in a score

FIND HUNDREDS OF SUPER BOWL 53 PROP BETS HERE
This article is courtesy of Phil Simon and our friends at Bookmaker
A plethora of propositional bets available at BookMaker.eu make the Super Bowl the most wagered on sporting event in the world.
Even if you are not a fan of the two combatants, the New England Patriots and Los Angeles Rams, you could make the evening a little more exciting by putting some coin down on whether the opening toss lands on heads or tails to the number and name of songs performed at halftime to what color Gatorade the winning coach will be doused with. Those are just a few of the hundreds of wagers available and we'll dive into some to give you the best chance of turning a profit.
Prop bets surrounding offensive production are always fun since we typically see points scored in the Super Bowl. There has never been a shutout and only one team in the entire history of the game has gone without a touchdown. So the question isn't whether we'll see a touchdown scored, rather who will score it. And of course you can make a wager on a player at BookMaker.eu.
Scroll Down For Odds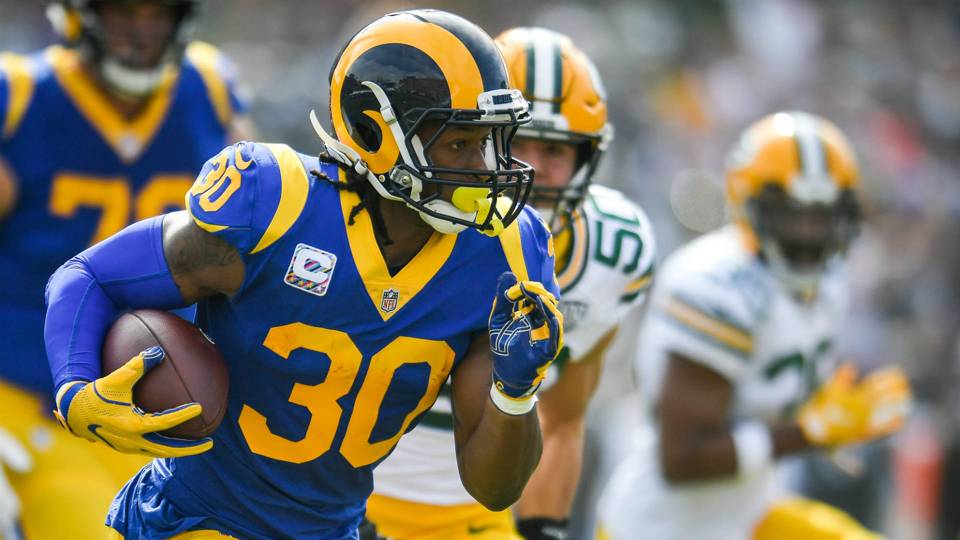 Todd Gurley is the favorite to score the first touchdown paying $65 for every $10 bet at Bookmaker
Super Bowl LIII at a Glance 
Los Angeles Rams vs. New England Patriots
Date and Time: Sunday, February 3, 2019, 6:30 p.m. ET
Location: Mercedes-Benz Stadium, Atlanta, GA
Opening NFL Odds: Patriots -2.5, O/U 57.5
Rams vs. Patriots TV Coverage: CBS
Player To Score The First TD in Super Bowl LIII Odds at BookMaker.eu (LIVE ODDS HERE)
Todd Gurley +650
Sony Michel +700
C.J. Anderson +850
Rob Gronkowski +900
Julian Edelman +1003
James White +1203
Brandin Cooks +1203
Robert Woods +1505
Rex Burkhead +1606
Chris Hogan +2010
Josh Reynolds +2200
Gerald Everett +2200
Tyler Higbee +2200
Phillip Dorsett +2515
Cordarrelle Patterson +2515
Dwayne Allen +5000
Tom Brady +5000
John Kelly +5000
KhaDarel Hodge +5000
Jared Goff +5000
NO TD Scored in Game +25000
Any Other Player +750
Scroll Down For More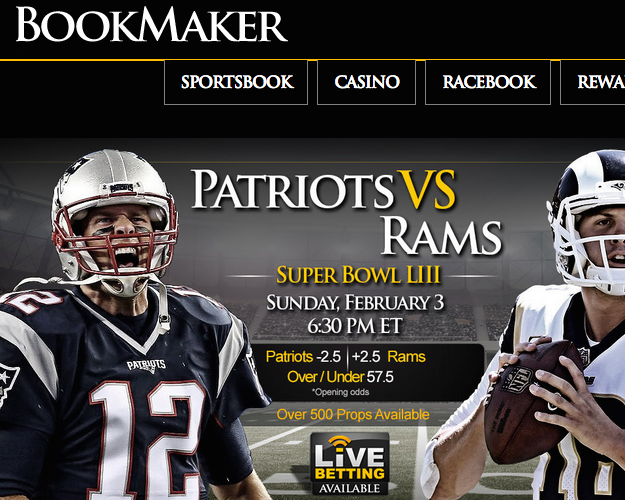 CLAIM UP TO $1000 FREE CASH WHEN YOU JOIN HERE TODAY
Despite seeing limited action in the NFC Championship, Todd Gurley at +650 is the favorite to score the first touchdown in Super Bowl LIII, because that's what he does. Gurley led the NFL this season with 17 rushing and 21 total touchdowns, even though he missed the final two regular season games with a knee injury. And the fact that he played the fewest snaps in a game in his career against the Saints in the NFC Championship hasn't dissuaded the oddsmakers.
The Rams offense is centered around Gurley and he has something to prove after admittedly playing a "sorry" game against the Saints. Gurley and the team both say the knee issues that shelved him at the end of the regular season are not a factor and you can expect the burly back to be ready for this one.
With a pair of quarterbacks who can sling the ball all over the yard, the teams have been efficient scoring on the ground. The Rams tallied 23 rushing scores and the Patriots 18 during the regular season to finish among the top-four. And that's why the top three players on the odds board are all running backs.

Sony Michel was coming in at 7-1 (+700) odds at Bookmaker to score the first touchdown
Right behind Gurley is New England's Sony Michel at +700. The rookie has been stellar in the playoffs running for five touchdowns in two games, nearly matching his total of six rushing scores in 13 regular season games. Michel is a major reason why the Pats have been so good offensively during the postseason with his rushing yards and touchdowns topping the entire league.
Let's not forget that both teams have talented playmaking receivers with breakaway ability that can easily result in a score. We're unlikely to see Tom Brady or Jared Goff hit paydirt, but they have weapons to throw to. Brady has thrown for a lot of yards this postseason but just two touchdowns, both to Phillip Dorsett. However, there is a bond between Brady and Julian Edelman that can't be overlooked. Edelman's been targeted 23 times this postseason with a team-high 247 receiving yards. He's also been elusive on punt returns, giving him some value at +1003.
Wouldn't it be nice for Brandin Cooks to score in the Super Bowl? One of a few Rams players with Big Game experience, Cooks was a member of the Pats last season getting knocked out of the game against the Eagles early with a concussion. Now he's back and has been the big play threat. Cooks had five TD catches during the regular season, but like the Rams passing game, he's been held off the board in the postseason.
Goff has tossed just one TD pass in two playoff games with C.J. Anderson becoming the featured back. And just because something hasn't worked, doesn't mean it won't in this one. Look for both QBs to air it out in what should be a shootout.
Prediction: Todd Gurley (+650)
BookMaker offers play-by-play betting odds for live sporting events every day! The user-friendly wagering interface on your smartphone provides an easy way to place bets on the go. Mobile betting lines are updated by the minute, so click here to start gambling on thrilling live action at BookMaker Sportsbook!