Here Gambling911.com will bring to you the hottest posting forum discussions in the world of gambling: Sports betting, poker, online casinos, affiliates and more.


*Only an email needed to open your anonymous betting account
*Provide your text number to get the best signup bonuses in sports betting
*$10 free cash signup bonus with a 1X rollover (bet) requirement
*20% cash signup bonus with just a 5X rollover (bet) requirement
*Payouts often in minutes
*Live streaming of many top events including international football and UFC
*In business since 1996
PLACE YOUR BETS HERE
Skippy From Margarita International Passes Away
(October 4, 2019) - Skippy from Margarita International has passed away, it was confirmed on SportsbookReview Friday morning. 
Margarita International was one of the first in a new wave of offshore sportsbooks that took the industry by storm during the late 1990's.
It operated on the Venezuelan island of Margarita Island along side the likes of Sportsbook.com, Grand Central Sports (which would go on to become Nine.com) and Skybook before the political upheaval we are witnessing today made operating there difficult.  We would be remiss in pointing out that a few offshore books currently operate in partnership with land-based casinos located in Caracas.
There was some initial confusion that Skip from Grande had passed away.  He is fine.

VIEW FULL THREAD AND DISCUSSION HERE
Another One Bites the Dust as Industry Dinosaur MPN Announces Closure
Though Microgaming should be around for many years to come, the old reliable industry standy confirmed Friday they will be shutting down their poker network, known as MPN, over the next 6 to 9 months.
In the poker world, this is today's hottest topic of discussion.
Bobo Fett observed: "There aren't many poker networks with lots of independently-owned skins any more, so this would appear to be a continuation of that trend."
SpinMeRightAround chimed in: "It seems like across the board, poker revenues are rapidly falling and sites are having to close or "restructure", cut rakeback, decrease rewards, not able to devote as much resources to catching cheaters/bots etc. Sad to see, but poker has been dying for a while now and things don't look good for the future."
Quite the contrary actually as poker is witnessing a resurgence based on record setting fields at some tournaments and this year's World Series of Poker Main Event was one of the biggest.
 

VIEW THREAD HERE
Morgan Stanley Downgrades Online Operators Based on AI
(September 19, 2019) - Morgan Stanley reduces price targets on GVC Holdings (OTCPK:GMVHF), Playtech (OTC:PYTCF) and The Stars Group (TSG) to account for the risk that superhuman artificial intelligence will disrupt online poker.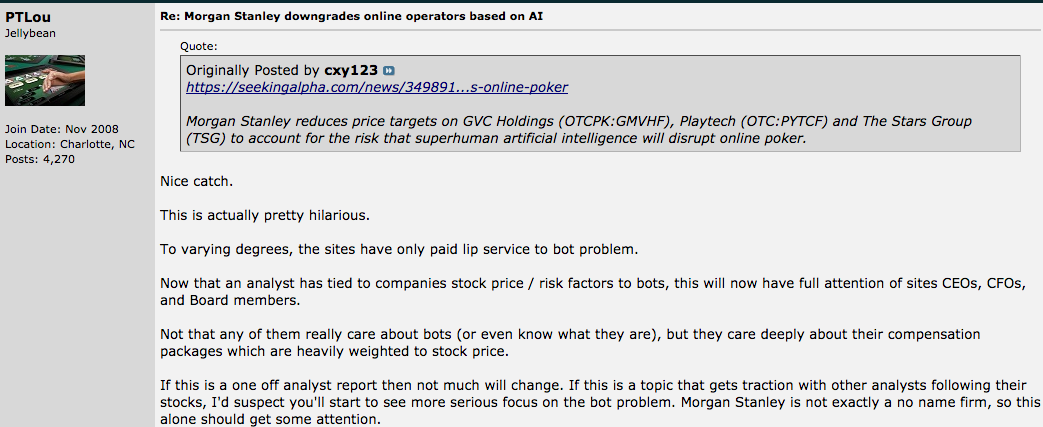 VIEW THREAD HERE
Ryan DePaulo Received One Year Ban From Borgata for Filming
(September 18, 2019) - From TwoPlusTwo:
Ryan DePaulo Received a one year ban from Borgata for filming
Received a one year ban from Borgata for filming.
I don't know the full story, about if it was for excessive filming, or he captured somebody on camera that didn't want filmed.
if you don't know who he is, he finished third in the Collusus this year and makes really funny degenerate videos.
Without knowing the specifics (his twitter says he had no warning other than requests to stop filming over the years), is there any recourse?
Seems like a major miscarriage of justice. If anyone has thoughts on how we can help this young man, please let me know. I am happy to write a letter on his behalf, as I view him to be a great amabassador for poker.


VIEW THREAD HERE