The Nets-Clippers line has shot to LA -6.5 after opening at -5.5 with a nearly 4-point overlay.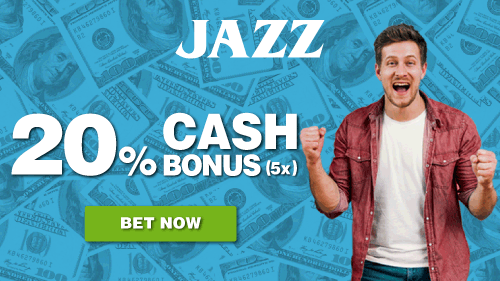 What is on the Line for the Nets
Brooklyn is looking for a 5-0 West Coast swing sweep for this most recent trip.  Using the current spread, Brooklyn has covered in four of five.  Though they lost the last "home" game against Brooklyn back in August, that was actually played in Orlando.  The Clippers had won eight straight home games against the Nets prior to that game.

The Nets have impressed on this road trip against top teams including the reigning NBA champion Lakers.

James Harden scored 23 points, Joe Harris added 21 with six 3-pointers and the Brooklyn Nets routed the short-handed Los Angeles Lakers 109-98 Thursday night for their season-best fifth straight victory.
Nets Big Star Still Missing In Action
Kevin Durant will miss his fourth consecutive game Sunday against the LA Clippers as he continues to get treatment on a strained left hamstring.
Why The Clippers Look Enticing in This One
Home team favorites of late have enjoyed succes with overlays of up to 3 points.  This one now features a 4-point overlay and could be even more by tip off.

Clippers have won four of their last five games overall. 

The Clippers had won eight straight home games against the Nets prior to last year's "home" loss in Orlando. 

The Clippers can be gotten for a decent -215 price on the moneyline

.

The LA Clippers welcomed back Kawhi Leonard and Paul George and ended the Utah Jazz's nine-game winning streak with Friday night's 116-112 victory.
A Few More Hot Trends
Nets are 5-0 Against The Spread in their last 5 after scoring 100 points or more in their previous game.

Nets are 10-4 ATS in their last 14 road games vs. a team with a home winning % of greater than .600.

Nets are 5-1 ATS in their last 6 games as an underdog.

Clippers are 2-6 ATS in their last 8 games vs. a team with a winning % above .600.

Nets are 16-5 ATS in the last 21 meetings.

Over is 15-3 in the last 18 meetings in Los Angeles (Total 235.5 after opening at 240.5)
Prop Bets
Nets @ Clippers Sun, Feb 21, 2021 EST
| Rot | First To Score | Moneyline |
| --- | --- | --- |
| 1999 | Nets     | +110 |
| 2000 | Clippers     | -140 |
| Rot | First To Score 20 Points | Moneyline |
| --- | --- | --- |
| 2003 | Nets     | +140 |
| 2004 | Clippers     | -170 |
| Rot | Largest Lead of the Game | Moneyline |
| --- | --- | --- |
| 2005 | Over  17½  Points | -115 |
| 2006 | Under  17½  Points | -115 |
| Rot | Double Result | Moneyline |
| --- | --- | --- |
| 2007 | Nets - Nets     | +300 |
| 2008 | Tie - Nets     | +3000 |
| 2009 | Clippers - Nets     | +650 |
| 2010 | Nets - Clippers     | +450 |
| 2011 | Tie - Clippers     | +1900 |
| 2012 | Clippers - Clippers     | -135 |
| Rot | Highest Scoring Quarter | Moneyline |
| --- | --- | --- |
| 2013 | 1st Quarter     | +210 |
| 2014 | 2nd Quarter     | +230 |
| 2015 | 3rd Quarter     | +325 |
| 2016 | 4th Quarter     | +290 |
| 2017 | Tie     | +1300 |
| Rot | Highest Scoring Half | Moneyline |
| --- | --- | --- |
| 2018 | 1st Half     | -150 |
| 2019 | 2nd Half     | -110 |
| 2020 | Tie     | +4500 |
| Rot | Winning Margin | Moneyline |
| --- | --- | --- |
| 2021 | Nets to win by 1-2 pts     | +1100 |
| 2022 | Nets to win by 3-6 pts     | +650 |
| 2023 | Nets to win by 7-9 pts     | +1100 |
| 2024 | Nets to win by 10-13 pts     | +1300 |
| 2025 | Nets to win by 14-16 pts     | +2300 |
| 2026 | Nets to win by 17-20 pts     | +2300 |
| 2027 | Nets to win by 21 or more pts     | +2000 |
| 2028 | Clippers to win by 1-2 pts     | +900 |
| 2029 | Clippers to win by 3-6 pts     | +450 |
| 2030 | Clippers to win by 7-9 pts     | +650 |
| 2031 | Clippers to win by 10-13 pts     | +550 |
| 2032 | Clippers to win by 14-16 pts     | +900 |
| 2033 | Clippers to win by 17-20 pts     | +900 |
| 2034 | Clippers to win by 21 or more pts     | +525 |
| Rot | Team with Highest Scoring Quarter | Moneyline |
| --- | --- | --- |
| 2035 | Nets     | +140 |
| 2036 | Clippers     | -145 |
| 2037 | Tie     | +650 |
| Rot | 1st Half Winning Margin | Moneyline |
| --- | --- | --- |
| 2038 | Nets to win by 1-3 pts     | +600 |
| 2039 | Nets to win by 4-6 pts     | +800 |
| 2040 | Nets to win by 7-9 pts     | +1100 |
| 2041 | Nets to win by 10-12 pts     | +1700 |
| 2042 | Nets to win by 13-15 pts     | +2800 |
| 2043 | Nets to win by 16 or more pts     | +2400 |
| 2044 | Clippers to win by 1-3 pts     | +500 |
| 2045 | Clippers to win by 4-6 pts     | +500 |
| 2046 | Clippers to win by 7-9 pts     | +550 |
| 2047 | Clippers to win by 10-12 pts     | +700 |
| 2048 | Clippers to win by 13-15 pts     | +900 |
| 2049 | Clippers to win by 16 or more pts     | +650 |
| 2050 | Tie     | +1300 |
| Rot | Game Total Odd/Even | Moneyline |
| --- | --- | --- |
| 2051 | Odd     | -115 |
| 2052 | Even     | -115 |
| Rot | Last To Score | Moneyline |
| --- | --- | --- |
| 2053 | Nets     | -115 |
| 2054 | Clippers     | -115 |
- Dan Shapiro, Gambling911.com