Gambling911.com is proud to present all the latest news pertaining to one of our long time partner sites BetOnline.

*50% signup bonus up to $1000
*Available most US states (NJ prohibited)
*Watch for top Bitcoin bonuses
*True dime line in Baseball up to -170
*$55 minimum to open account
*Highest credit card acceptance rate
*In business since 1999
LEARN MORE HERE
Greta Thunberg was 2nd Highest Bet Count at BOL
Greta Thunberg wins #TIMEPersonoftheYear2019 .

Congrats to Greta and more importantly the betting public.

The 16 year old climate change activist had the 2nd highest bet count (Hong Kong Protesters highest).

Her odds closed +500. Loser for Team @betonline_ag

— Dave Mason (@DaveMasonBOL) December 11, 2019
Book in the Red for Three of Four Heisman Finalists
Yikes, we are in the red on 3 of the 4 #Heisman finalists, including the favorite. Jalen Hurts is our only win.

We were buried on Burrow from the get-go. pic.twitter.com/cOavcCe3Kc

— Dave Mason (@DaveMasonBOL) December 10, 2019
Eagles Moneyline Seeing Most Action of Any ML This Season
Despite the price, BetOnline gamblers obviously believed this to be a "lock" and worth the hefty stake.
More money on Eagles ML than any other ML this season.

More money on Eagles ML than Giants ML and both spreads combined

Odds> https://t.co/Xd217puzlX

— Dave Mason (@DaveMasonBOL) December 10, 2019
#MNF Action Report ($$$):

62% on Giants +9
90% on Eagles -450
53% on Under 45

Odds> https://t.co/Xd217puzlX

— Dave Mason (@DaveMasonBOL) December 10, 2019
Seahawks-Rams a Huge Winner for the Books
Factor in all the teaser and parlays on top straights and last night's Seahawks - Rams game was one of the biggest decisions of the season. Turned a bad day into a good day.

Giants +9.5 at Eagles up next.

Odds> https://t.co/Xd217puzlX

— Dave Mason (@DaveMasonBOL) December 9, 2019
Folks Hammering New England -3
Lock it up. Our guys are hammering New England (-3) this week. #BestBets pic.twitter.com/pOfP9Wv7kb

— Stadium (@Stadium) December 6, 2019
Latest College Football Playoffs Rankings Released
The newest #CFBPlayoff rankings are here ahead of Championship Weekend!

Utah is sitting on the edge, could they make it in? pic.twitter.com/EX3cRJcWWH

— Stadium (@Stadium) December 4, 2019
Ravens Move Past Pats as Super Bowl Favorites
The Ravens, who beat the San Francisco 49ers on Sunday for their eighth straight victory, moved past the New England Patriots and are now the consensus favorites to win the Super Bowl.   
Lamar Jackson, in his first season as a full-time starter in the NFL, has emerged as the odds-on favorite to win regular-season MVP.
540003     Baltimore Ravens         +275     
540021     New England Patriots         +400     
540022     New Orleans Saints         +600     
540016     Kansas City Chiefs         +800     
540028     San Francisco 49ers         +800     
540029     Seattle Seahawks         +1200     
540012     Green Bay Packers         +1600     
540009     Dallas Cowboys         +2500     
540020     Minnesota Vikings         +2500     
540013     Houston Texans         +2800     
540004     Buffalo Bills         +3300     
540026     Philadelphia Eagles         +5000     
540031     Tennessee Titans         +5000     
540027     Pittsburgh Steelers         +6600     
540018     Los Angeles Rams         +8000     
540006     Chicago Bears         +12500     
540025     Raiders         +15000     
540008     Cleveland Browns         +25000     
540010     Denver Broncos         +25000     
540014     Indianapolis Colts         +25000     
540030     Tampa Bay Buccaneers         +25000     
540017     Los Angeles Chargers         +50000     
540005     Carolina Panthers         +100000     
540015     Jacksonville Jaguars         +100000     
540024     New York Jets         +100000     
540032     Washington Redskins         +100000
Vegas Super Bowl Odds
Ravens    5-2
Saints    7-2
Patriots    9-2
49ers    6-1
Seahawks    10-1
Chiefs    10-1
Vikings    13-1
Packers    18-1
Texans    30-1
Cowboys    30-1
Bills    35-1
Stadium Talks Ravens Super Bowl Chances
The Baltimore Ravens now have the second shortest odds to win the Super Bowl after the Patriots.  They will pay $450 for every $100 bet at BetOnline.  That's some excellent value.  But can they really overtake the Pats?   @Stadium talks about their chances to do just that.  
The #Ravens have been red hot lately but do you still consider the #Patriots to be the favorite to win the AFC? #GoPats pic.twitter.com/0DSrT1biwc

— Sauce & Shram (@SauceAndShram) November 24, 2019
Brett McMurphy's College Football AP Top 25 Ballot for Week 14
It was a pretty uneventful week involving Top 25 teams on my ballot with the exception of two games: Ohio State holding off Penn State and Arizona State upsetting Oregon.
I dropped Penn State down to 10th after the Nittany Lions' loss at Ohio State and dropped Oregon to No. 14 after losing at Arizona State.
Next week's ballot will look much different with five Top 25 matchups: Ohio State at Michigan, Alabama at Auburn, Oklahoma at Oklahoma State, Wisconsin at Minnesota and Memphis at Cincinnati.
All betting available at BetOnline, proud sponsor of @Stadium.
Week 6 NFL Action Report
The Saints +1 were seeing the most lopsided action at BetOnline (87%) but there was also the Seahawks -1.5 (83%) and the  Eagles +3 at 80%
Early NFL Week 6 action (bets):

77% NE -16.5
60% Car -2
51% Bal -11.5
83% Sea -1.5
58% KC -5
87% NO +1
80% Phi +3
56% Mia +3.5
57% LAR -3.5
77% Atl -2.5
77% Dal -7
56% Ten +2.5
51% Pit +7
56% Det +4

— Dave Mason (@DaveMasonBOL) October 8, 2019
Sharp Money on Louisiana and Dodgers
Appalachian State (+3) at UL Lafayette tonight.

59% of cash on App St.

Sharp coin on ULL pick

— Dave Mason (@DaveMasonBOL) October 9, 2019
Sharp coin on Dodgers -161 or better tonight. Current odds:

Nationals +155
Dodgers -165

Odds> https://t.co/qDAcsLpmZk

— Dave Mason (@DaveMasonBOL) October 9, 2019
Updated NFC Division Odds
(October 3, 2019) - These are courtesy of BetOnline - Lock in these prices here now
NFC Divisional Odds

East
Cowboys -125
Eagles +110
Giants +1200
Redskins +10000

South
Saints -175
Panthers +450
Bucs +500
Falcons +700

North
Packers +150
Bears +165
Vikings +400
Lions +600

West
Rams -120
49ers +200
Seahawks +350
Cardinals +10000

Odds> https://t.co/zCVB5t9tZe

— Dave Mason (@DaveMasonBOL) October 3, 2019
We Tour the Colorado Buffaloes Amazing Football Facility With BetOnline
(October 3, 2019) - The Colorado Buffs have one of the most luxurious facilities in all of college football. Multiple staffers from the Buffs, including new head coach, Mel Tucker, gave us a tour of Colorado's digs in its entirety. AMAZING.
Be sure also to place your bet on the Buffaloes at BetOnline.ag here
Early Week 5 NFL Action Report
(October 1, 2019) -
#NFL Week 5 - early action (bet count):

59% LAR+2
77% Bal -3.5
72% Chi -5
83% Az +3.5
70% Jax +3.5
65% Min -5.5
91% NE -15
66% NYJ +13.5
51% NO -3
57% Hou -5
63% LAC -6.5
62% GB +3.5
51% KC -11
67% Cle +3.5

— Dave Mason (@DaveMasonBOL) October 1, 2019
Updated World Series Odds
(October 1, 2019) - All Odds Courtesy of BetOnline
World Series odds. Our needs:

Brewers (25-1) XXXL Win
Braves (10-1) XXXL Win
Rays (28-1) XXL Win
A's (16-1) XL Win
Nats (14-1) Large Win
Twins (14-1) Medium Win
Dodgers (3-1) Medium Win
Astros (2-1) Small Win
Yanks (9-2) Small Loss
Cards (10-1) Larger Loss

— Dave Mason (@DaveMasonBOL) October 1, 2019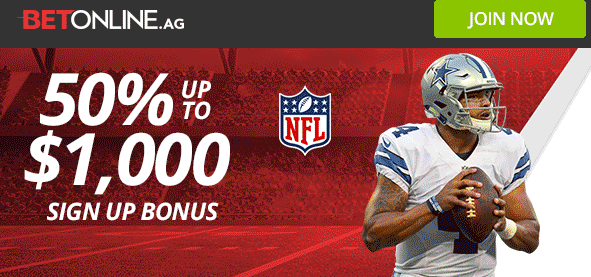 Latest Heisman Race Odds
Jalen Hurts made up some ground on former teammate Tua Tagovailoa in the Heisman race.

We in the red on:

Burrow (big liability)
Fields (small liability)
Lawrence (minuscule)

Who you got? pic.twitter.com/ZUaMqKfzAq

— Dave Mason (@DaveMasonBOL) September 30, 2019