CLAIM UP TO $1000 SIGNUP BONUS HERE - CLAIM YOUR WINNINGS AT ANY TIME - NO WAIT
This fight should see plenty of betting action with Velasquez coming in as a -152 favorite.  Ngannou would pay out $13 for every $10 bet.
This will be ESPN's first big UFC broadcast after the network signed a five-year, $1.5 billion deal.  The majority of fights will be available on the ESPN+ subscription service.  Ngannou vs. Velasquez and its undercard fights will be shown for free on cable television to a nationwide audience starting at 7 pm EST Sunday (February 17).
Velasquez has vowed to retire if he has trouble competing Sunday night.
"The reason I do this is to be the No. 1 guy," Velasquez told Yahoo Sports earlier this week. "And if I'm not as competitive as I was before, then I'm not doing it. But I also believe that I am that same guy. I've improved a lot and right now, I feel stronger than ever, stronger than in the past. Obviously in that fight against Travis Browne, I am stronger than that. My body feels better than I did then with the time off I've taken."
"I just have a lot of confidence to go out and win this fight," Velasquez added. "I expect to go out and compete at a high-level. If I can't do that, then I'm not going to do this any more."
ALL ODDS APPEAR BELOW - PLACE YOUR BETS HERE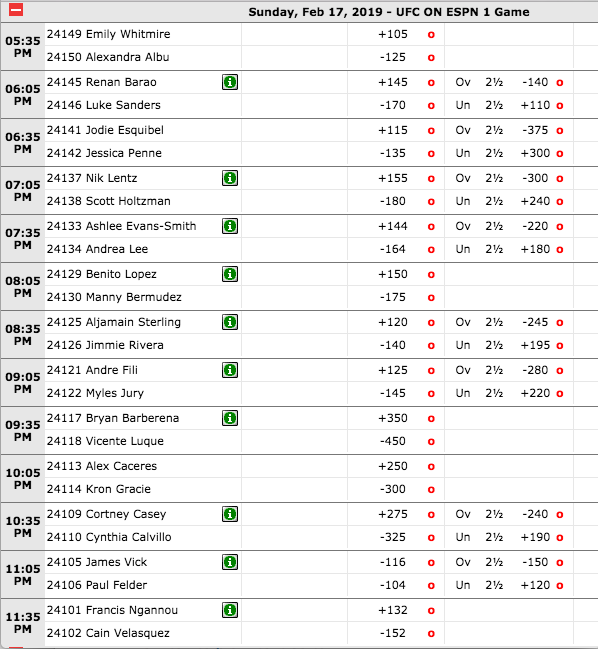 - Mary Montgomery, Gambling911.com